Apex Legends has successfully retained its consistent player base throughout the years. Where the battle royale genre has steered off the course of popularity, a few names are still holding up their ground, and Apex Legends is one of them. And now, after a lot of changes, the game has something more to offer. A new sort of challenge is added to the game, called the "Scout of Action", and it has attracted a lot of attention.
To know more about the challenge and how you can complete it, please read further down below!
About the Scout of Action Challenge in Apex Legends
This new challenge is the number one task in the entire Chapter 1: Living with It of the Bangalore diary. Players need to complete this challenge in order to advance to the second stage of Bangalore's storyline, called "The Williams Sendoff". Pursuing these challenges will reveal more information about one of our favourite Legends in the game. Now let us talk about how you can complete this challenge!

Guide to Scout of Action Challenge in Apex legends
The first thing you need to do is complete the Apex Legends Prologue, then only you will be able to advance to the real challenge. Once you have entered the Firing range, there will be a number of sub-sections to test out weapons. These are in categories, depending on the type of ammo the weapon uses. Now, equip yourself with a G7 Scout and pack some Light Ammo with you. Now head towards the standalone rack in the Heavy Weapons section of the Firing Range. Once you reach there, you will be taken to the Scout of Action Challenge in Apex Legends.
The challenge is basically a type of mini-game that you have to play. At the beginning of the challenge, you will be prompted with a few lines from the Legend Bangalore. After she is done speaking, the challenge will pop up on your screen. You have to hit a total of 35 of the Blue targets within the time limit of 60 seconds. These blue targets will turn red randomly and your shots won't be registered then. This means you will be able to only hit them once they are blue, which makes it a tidbit difficult.
After successfully hitting the 35 targets within 60 seconds, the Scout of Action Challenge will be completed and players will receive the Scout of Action Tracker and the Living With It Transition Loading screen.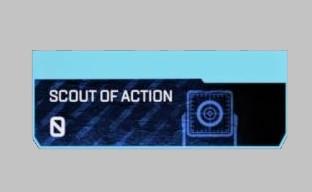 So to learn more about Bangalore's backstory and to unlock chapter 2, complete this challenge now!
This concludes today's article regarding Apex Legends, be sure to follow us for more gaming Guides, How to's and Tutorials.