Once you have acquired the new COD battle pass, you will realise that you will be privy to a new weapon in the game. The MK2 Marksman Rifle is the latest monster of a gun that has been picked up recently. If you're wondering about the best build and loadout for the MK2, we have got you covered.
Best MK2 loadout:
Here is the best MK2 loadout in COD Mobile:
Barrel

: 18.0 Sport Barrel

Stock

: Custom Accuracy Stock

Perk

: FMJ

Laser

: OWC Laser – Tactical

Rear Grip

: Stippled Grip Tape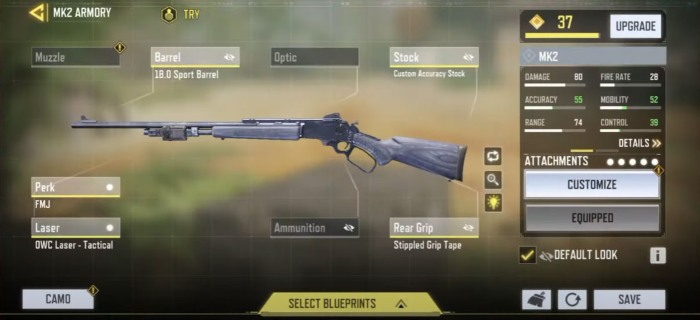 The MK2 is difficult to handle and you'll want to make sure you have the correct frame and build. It is a type of sniper rifle, but without the zoom, hence your specs need to be on point. It is great for medium and long-range but is difficult to acquire.
OWC Tactical Laser for better ADS speed, and sprint-to-fire delay,  are two modifications you will need to add to make sure you have your best class setup and gunsmith loadout. For stock, you can go with either the Custom Accuracy Stock or the MIP Sport Stock, depending on your play style.
To increase your ADS speed even more, you can try adding a Stippled Grip Tape attachment onto the MK2. One optional extension is the 30 round ammunition, which has some nice perks, but it does take away the body part multiplier damage.