Cyberpunk 2077 is an open world by CD PROJEKT RED, narrative-driven role-playing game set in the universe of the classic pen & paper RPG system — Cyberpunk 2020. مجموعة اليورو 2023 The game follows the story of V — a hired gun on the rise in Night City, the most violent and dangerous metropolis of the corporate-ruled future. موعد انطلاق يورو 2023
It seems that troubles won't end for Cyberpunk 2077 anytime soon. With the games being the buggy mess, it indicates that the gamers are not only but even the games investors are disappointed by its performance in the market.
CD Projekt executives just received news that two different law firms: the LA-based The Schall Law Firm and the NYC-based Rosen Law Firm filed class-action lawsuits against CD Projekt alleging that the Company misled investors when it comes to the recently released game Cyberpunk 2077.
lmao a class action lawsuit has just been filed against CD Projekt Red on behalf of investors for the disastrous launch of Cyberpunk. the lawsuit seeks to recover damages for investors under the federal securities laws

it just gets worse for CDPR https://t.co/KPqdGqqy7h

— Rod Breslau (@Slasher) December 24, 2020
The lawsuit against CD PROJEKT RED stands as follows:
"According to the Complaint, the Company made false and misleading statements to the market. CD Projekt's hotly-anticipated video game "Cyberpunk 2077" was practically unplayable on current-generation Xbox and PlayStation consoles due to an overwhelming number of bugs and other problems. Sony, Microsoft, and the Company were forced to offer refunds to customers who bought "Cyberpunk 2077," resulting in Sony removing the game from its PlayStation Store. The Company's reputation was harmed significantly by the botched launch of "Cyberpunk 2077." Based on these facts, the Company's public statements were false and materially misleading throughout the class period. When the market learned the truth about CD Projekt, investors suffered damages. سيرجيو بوسكيتس "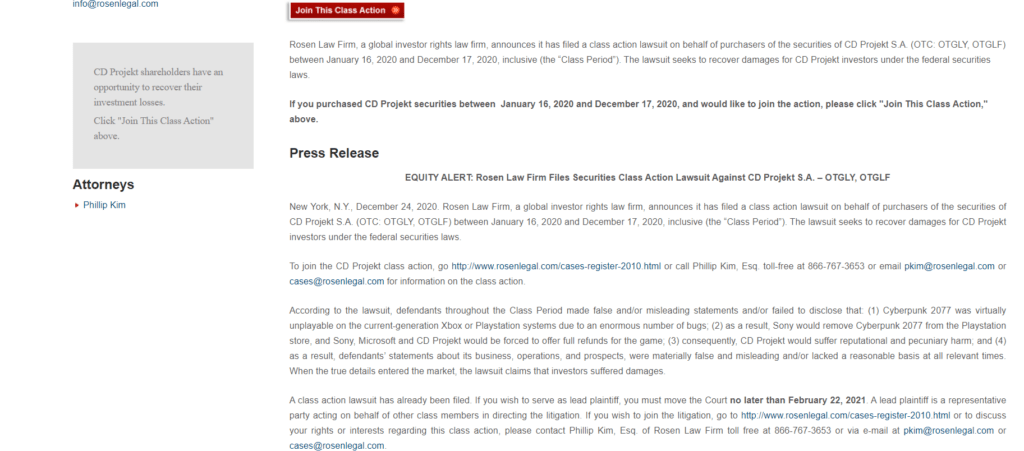 "According to the lawsuit, defendants throughout the Class Period made false and misleading statements and failed to disclose that: (1) Cyberpunk 2077 was virtually unplayable on the current-generation Xbox or Playstation systems due to an enormous number of bugs; (2) as a result, Sony would remove Cyberpunk 2077 from the Playstation Store, and Sony, Microsoft and CD Projekt would be forced to offer full refunds for the game; (3) consequently, CD Projekt would suffer reputational and pecuniary harm; and (4) as a result, defendants' statements about its business, operations, and prospects, were materially false and misleading and lacked a reasonable basis at all relevant times. When the true details entered the market, the lawsuit claims that investors suffered damages."
The game is available on PC, Xbox series X, Xbox Series, PlayStation 5 (just kidding), and for those who don't care about their machine can play the game on Xbox One and PlayStation 4 as well.
heres the games tralier to enjoy a sweet lie: