Call of Duty: Mobile or COD Mobile is one of the popular titles in the mobile gaming universe. It is a game that brings out the delicacy and ethnicity of the Call of Duty games, that everyone is familiar with on PC and popular consoles, on your mobile devices. The game has all the popular modes from deathmatch to search & destroy and even a version of battle royale. There are various weapons, player classes, utilities that one can apply to their game and the learning curve is also amazing.
One such piece of equipment is the Trophy System and we are here to talk about the weapon in detail, including its usage. Please continue reading further for more information.
About the Trophy System in COD Mobile
Seasoned COD players are already aware of most of the weapons and equipment that COD Mobile has and the Trophy system is one of such equipment. The Trophy system is marvellous equipment that carries some extensive usability. The equipment is unlocked once a player reaches a certain higher level. The Trophy system is an insanely powerful weapon that works as a guard/ shield for the players.
The Trophy system deflects most airborne explosives, this includes point streaks like Predator Missiles, Flashes/ Stuns, RPG, Explosive Charges, Reaper Missiles, I.M.S explosives, AC-130's 40mm and 105mm, Bouncing Betties and others. Sounds powerful right? Well, it sure is but the only downside about this equipment is that one of this unit can only deflect two projectiles.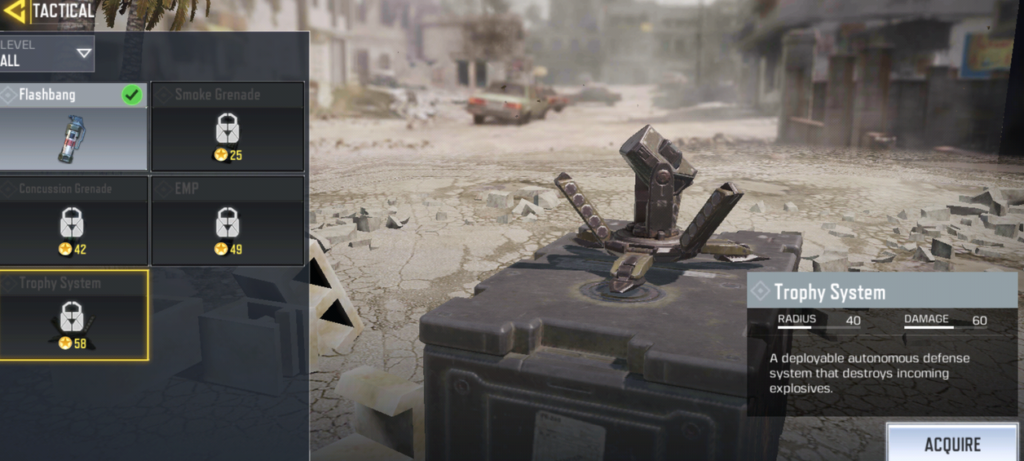 After that, you would require a new one. The Trophy system is well-known for its capability to fire at enemy projectiles that may come from any direction. An absolute defence mechanism to avoid unnecessary deaths and even cheat death when there's no other way out.
How to Use the Trophy System in COD Mobile
Players can equip the Trophy system and place it at a plausible position, most places work, and it will be activated. It would work as your rear guard but will cover all around. Many like to use the Trophy system near the end of the game or place them at their vehicle to avoid unexpected oncoming projectiles. It is highly recommended to equip and use the Trophy System as defence is sometimes better than offence and it can help you to plan out your next attack by buying you much time, literally a life-saver.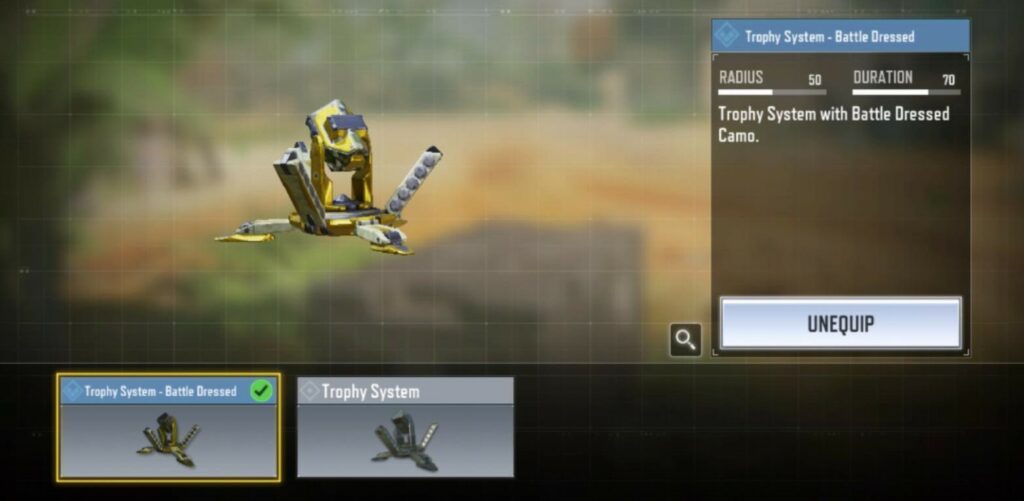 Be sure to follow us for more COD Mobile Tips & Tricks, Guides and How to(s).