The developers behind Cyberpunk 2077 has released three patches for the game until now. Recently released latest hotfix, which promised to fix various issues related to the game is comparatively smaller than the previous versions. As for whether it ended up making some good stuff for the game, remains to be seen.
Here are complete details regarding all the patches of the game released until today:
Cyberpunk 2077 1.06
Quests
Dum Dum will no longer go missing from Totentanz's entrance during the Second Conflict.
Console-specific
Improved memory management and stability, resulting in fewer crashes.
PC-specific
Removed the 8 MB save file size limit. Note: this won't fix save files corrupted before the update.
Cyberpunk 2077 1.05 Hotfix
 PC-specific fixes
[AMD SMT] Optimized default core/thread utilization for 4-core and 6-core AMD Ryzen(TM) processors. 8-core, 12-core, and 16-core processors remain unchanged and behaving as intended. This change was implemented in cooperation with AMD and based on tests on both sides indicating that performance improvement occurs only on CPUs with 6 cores and less.
Fixed an issue with the way Raw Input is collected.
Removed the use of AVX instruction set thus fixing crashes occurring at the end of the Prologue on processors not supporting AVX.
Removed debug console to prevent functions that could lead to crashes or blocked quests. This doesn't mean we don't want to support the modding community. Stay tuned for more info on that.
Ray traced reflections should no longer seem too bright in comparison to the environment. افضل الدوريات في العالم
Fixed an issue with Steam Overlay crash on game shutdown.
Removed the memory_pool_budgets.csv file. which was not connected with the final version of the game and had no influence on it (it was a leftover file used during the development to estimate memory usage. It had no effect on how much memory was actually allocated). Perceived performance increase after editing the file may have been related to restarting the game. لعبات امم اوروبا
Console-specific
Improved image sharpness with Chromatic Aberration and Film Grain on.
Settings should no longer reset to default after several game session restarts.
Fixed visual issues occurring during the transition between The Heistand Love Like Fire.
Corrected the look of several vehicles.
[Xbox] Entering combat while Synaptic Accelerator is active no longer ends in player health bar not being displayed.
[Xbox] Game no longer becomes unresponsive when signing out from a profile when the controller disconnection message is visible.
Telemetry consent request will appear once more due to an earlier issue with settings reset.
Fixed an issue whereby it was possible to fall down the elevator shaft in Mega building H8 in Automatic Love.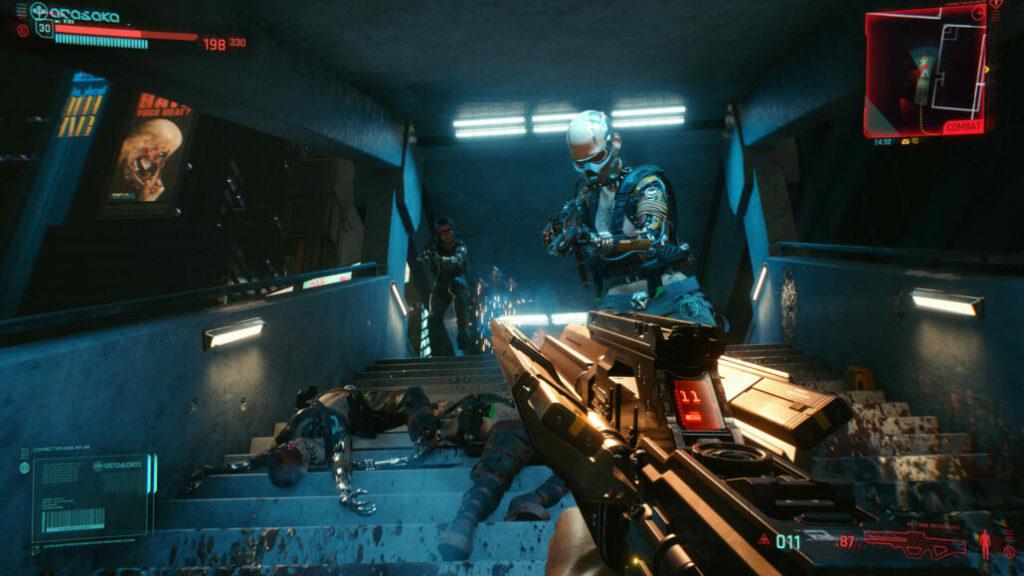 Cyberpunk 2077 1.04
Quests
Fixed an issue with completing the final objective in Gig: Freedom of the Press.
Fixed an issue with starting a conversation with Johnny at the end of Life During Wartime.
Corrected a rare issue with NPCs no longer calling V if A Like Supremequest was abandoned mid-way.
Fixed an issue with Nix not going into his default state in Spellbound and KOLD MIRAGE.
Fixed issues blocking progress in I Fought The Lawif the quest area is left.
Fixed inability to find Delamain in Epistrophy.
Fixed issues related to remaining in the second phase of the quest after finishing Pacifica fight with Ozob if played after Finals.
Fixed an issue with Nomads no longer present if V leaves the quest area mid-combat in With a Little Help from My Friends/Queen of the Highway.
Adjusted mappings and re-enabled quest tracker in M'ap Tann Pèlen/I Walk the Line/Transmission.
Fixed constraints on freedom to get up and sit down if neither blueline condition is met in Violence.
Fixed issues with time and space resulting from leaving the quest area or abandoning the quest inFollowing the River.
Fixed an issue with a conversation with Johnny not starting after leaving the hotel in Tapeworm.
Fixed an issue with quest being blocked upon leaving the quest area before climbing the hill in Following the River.
Fixed the objective "Go into booth 9" not completing if the room's entered too fast in Automatic Love.
Fixed Jackie's issues with sitting still inThe Ripperdoc.
Other quest fixes
Gameplay
Fixed the preview in weapon crafting.
Visual
Reduced vehicle appearance pop-in.
Speeded up switching the first-person perspective to third-person perspective in a vehicle.
Fixed issues with animations missing from important quest NPCs during cinematics.
Performance & Stability
Improved stability, including various crash fixes.
Miscellaneous
Modified the flashing effect on braindance to reduce the risk of inducing epileptic symptoms. The effect has been smoothed out and the flashes reduced in frequency and magnitude.
Removed copyrighted songs incorrectly present in the game with the "Disable Copyrighted Music" feature toggled on.
PC-specific
Switching language to default in the in-game settings now correctly sets it to the language of your Steam client.
Console-specific
Improved reflections quality on Xbox One and PlayStation 4 to eliminate the smudge effect.
Fixed "The Wasteland" achievement being stuck on 97% after completing all relevant missions in The Badlands on Xbox. 888كازينو
Fixed an issue with missing PT-BR VO for Xbox players in the Americas
Cyberpunk 2077 is now available on PC, PlayStation 4, Xbox One, and Google Stadia.