Dying light is a First-person survival and action-adventure Zombie game that was both developed and published by Techland. It was released back in 2015 and was a huge success. There are a lot of zombie survival games out but the thing that separates Dying light from them is its beautiful gameplay and parkour mechanics. It feels amazing to crawl on buildings after buildings, dodging harm and blowing a steel pipe on a few zombies head in between.
The sequel to this game 'Dying Light 2' was first announced back in 2018 and was set to be released in 2020. They released a 26 minute promising and award-winning Dying Light 2 gameplay demo to showcase what to expect. The gameplay sheds details to the story, improved graphical elements and visuals, better parkour mechanics and a choice-based aspect which will shape the story. Well, this was all very cool to the fans but it didn't go as planned as we all know.
In January of 2020, Techland announced the game has been delayed indefinitely and a few months later we got an update on why it got delayed. Due to the game's condition and still, in the development stage, it wasn't in optimal condition to be officially released anytime soon. Since then, the whole thing went kind of silent and no further information was available to the fans.
It was on the 25th of Dec this year, we finally were delighted with some new information about Dying Light 2. A new message on the company's official Discord server by one of the members of the team talks about it.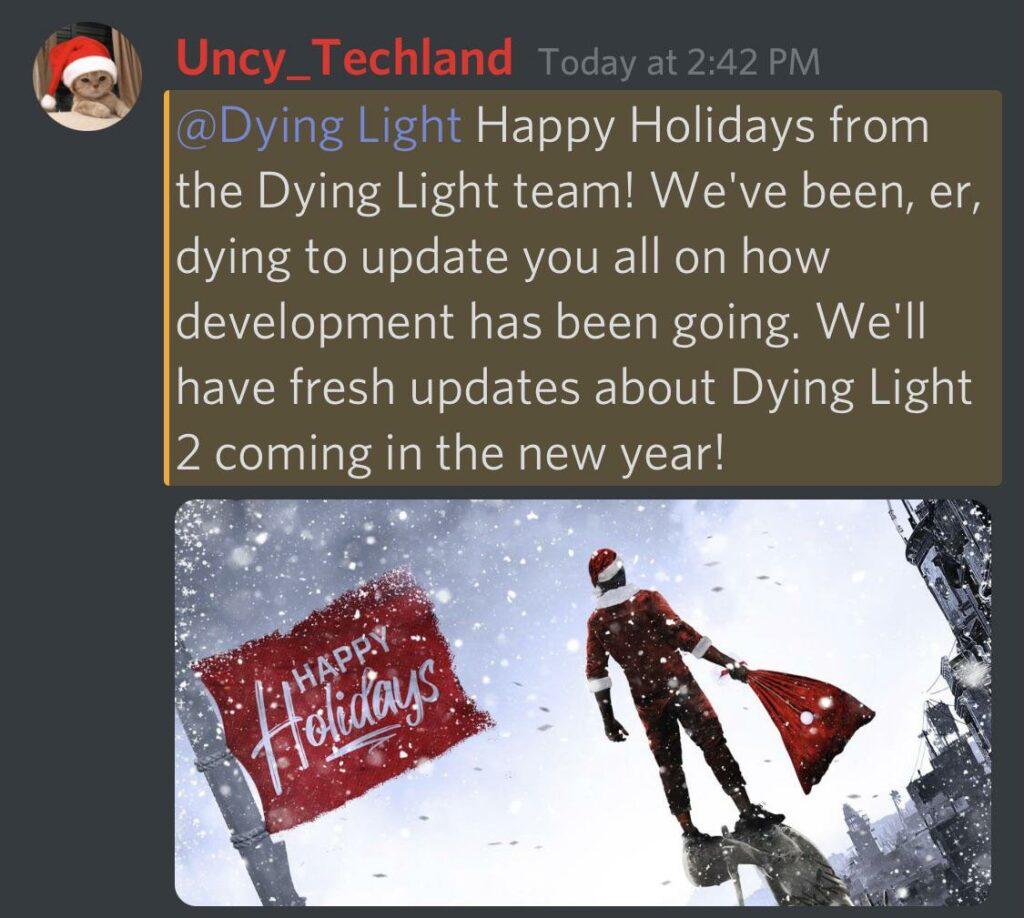 According to the message, it seems that the developers were very eager to share new information and updates on the said on-going development process of the game. This news is said to be delivered to the public in the coming new year, i.e. 2023 which is just great. It could also tease a possible release date later that year.
Even though many things have changed since the primary delay of the game as the new generation consoles, the PS5 and Xbox Series X, have also been released. So it is a question on whether the game will come for the new-gen consoles only or will also be released for the last-gen consoles. Also, it would be interesting to see what new gameplay and graphical improvements we will be seeing from the initial gameplay trailer that was released two years ago.
We really loved the original Dying Light and thus our hopes are high for the new title in the series. The game's mechanics makes it unique under its genre of zombie survival game so that element is required further in the series. We will be informing you with any new updates as soon as we receive it so be sure to follow us! Happy gaming everyone!