Greetings gamers, we are here with a new article in which we will talk about the Erdtree Burial watchdog and how it can be beaten. Elden Ring is full of boss enemies in the Lands Between. You can see Erdtree's Burial Watchdog boss in the catacombs region.
The Boss in Elden Ring:
Players can see the Erdtree Burial Watchdog many times while passing by the Lands Between. They need to have one on one with the boss multiple times. The first fight can be seen in the Stormfoot Catacombs. The location of the Stranded Graveyard Site of Grace is southeast of the Stormfoot Catacombs. The players will go through the road of Stormfoot catacombs and will observe many secret doors that they need to unlock. After which the first Erdtree Burial Watchdog will be seen.
The Erdtree Burial Watchdog looks like a catlike statue with a flaming tail and a giant sword. Its attack includes very dangerous ones. It is not at all easy to beat it unless players have good experience and have acquired good weapons.
Defeat the Erdtree Burial Watchdog Boss Fight:
All the move-set of Erdtree Burial Watchdog consists mainly of six attacks. They are Slash Attacks- In this attack attacks with its sword many times. The second move set is Triple Cleave- In this move, the watchdog lifts into the air and pushes down under a second.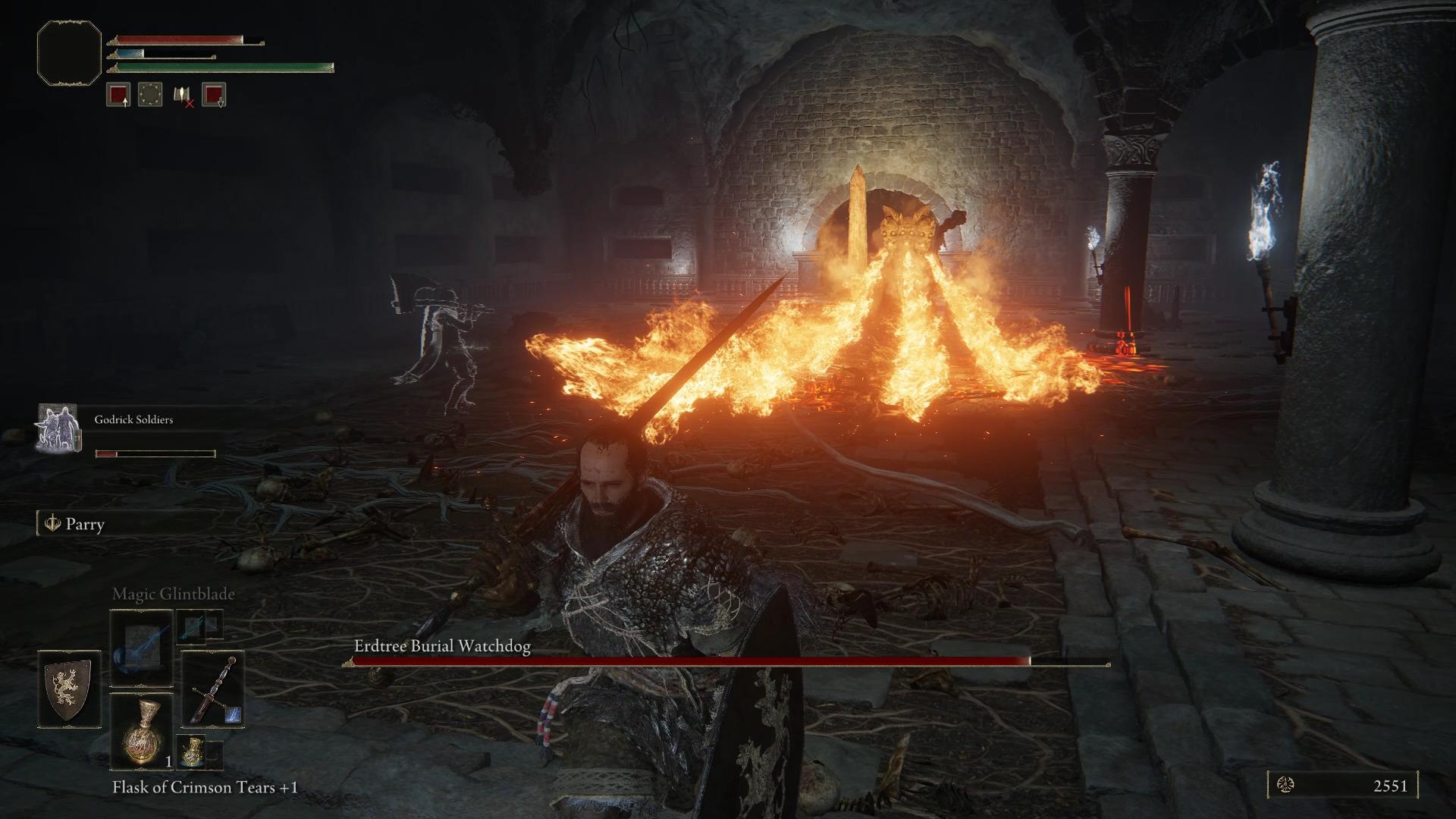 The third attack includes Sword Smash- This lifts and attacks with the sword downwards. Next comes the Thrust – In this, the watchdog pulls his sword and then smashes it in the forward direction. Then comes the Spin attack in which the watchdog takes its sword straight and spins around it. At last, the Fire Breathing attack can be used in which the watchdog smashes fire flashes from its mouth and rotates while doing it so.
Conclusion:
So far, we have seen the ways how the Erdtree Burial Watchdog can be defeated. We also saw how players can monitor all the attacks of the Erdtree Burail Watchdog. With the help of perfect skill set, players can head towards defeating the beast living in the Stormfoot Catacombs. Explore the game and stay tuned. In the meantime, you would also like to read more on getting Icerind Hatchet in Elden Ring.