Enlisted has been taking away the spotlight for itself as the massively multiplayer game went for its Open Beta Test after a year of its first 'public play'. Enlisted is an MMO Squad based First-person Shooter game available for Windows PC, PlayStation 5 and Xbox Series X/S. The game has been developed by Darkflow Software and published by Gaijin Entertainment and it is based around the major and iconic battles from the times of World War II.
More About Enlisted
The game has become pretty popular and has changed a lot from what it was a year ago. Players are loving it and it shows some real potential in the current video gaming market. The gameplay is smooth and fast-paced, with a balance between different squads of both player's side and enemies. 
The game runs pretty well on older and low-range hardware but can be a little demanding at times. This guide will list all the possible settings that you may apply to Enlisted to boost FPS and performance.
Before we begin, we must check the minimum system requirements in order to play Enlisted as anything below that will not be able to deliver optimal performance. 
Minimum System Requirements:
OS: Windows 7 / 8 / 10 [64bit]
Processor: Intel Core i3, AMD equivalent or better
RAM: 8 GB
GPU: Nvidia GeForce 660 or better, AMD Radeon 78XX series or better
DirectX Version: DX 11 or higher
Free disk space: 12GB [Actually has an 16 GB appx. Download size]
Now, if you are running Enlisted above-mentioned hardware or better, achieving optimal FPS is not a problem. The game is still under Beta so performance may improve in the future so do not worry.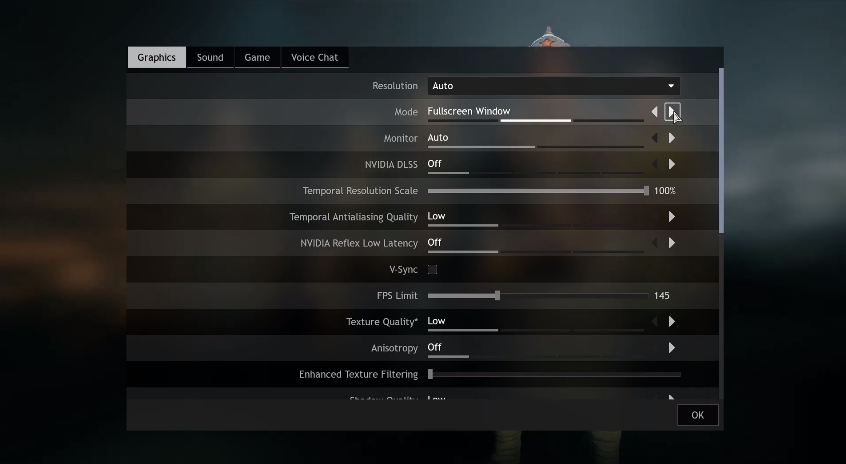 Optimal FPS Solutions for Enlisted
Resolution – Set this to your native screen resolution for a better visual experience. But in case you are getting low FPS, lower the resolution. You can play the game at 1280×720 or 1024×768 for the most optimal FPS performance on a weak GPU.
Window Mode– Always set this to Fullscreen only.
Graphical settings– Set the available graphical settings like anti-aliasing, texture quality, etc to Low or Medium for a performance boost in return for lower visual quality.
FPS Limit– Set this to your monitor's refresh rate, e.g- 60 for a 60Hz monitor or 75 for a 75Hz monitor, for a stable performance.
Field of View [FOV] – Go to your 'Game' tab on the settings menu and lower the field of view or FOV slider from 100 [Default] to 80 or 75. This should give some noticeable frames boost.  
Be sure to follow us for more Enlisted Guides, Tips & Tricks, How to(s), etc!