Fortnite Chapter 3 has brought some of the most innovative game mechanics to their title. We all loved the Spider-man web-swinging mechanic in Fortnite more than the one in Marvel's Avengers game. Similarly, Epic Games has added another cool game mechanic that players can take advantage of to enhance their gameplay. In this article e, we will talk about the newly added Gyro controls in Fortnite Chapter 3 and how you can enable and utilize them.
Gyro Controls in Fortnite Chapter 3
Fortnite has been a popular game around the world over different platforms. It is as widely played on PC, as it is on mobile and consoles. But one thing the Fortnite PC players can do better is aim precisely. It is more convenient with a mouse and keyboard. However, you can also get good with aim assist and a lot of practice with the controllers. But now, you can also utilize Gyro controls to get a better grip on the game all while aiming at the right spots simultaneously.
Along with the Gyro controls, players also get a new option of Flick Stick. Here's how to use them.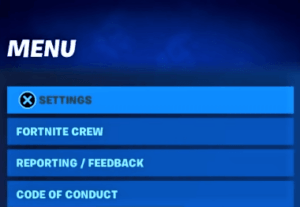 How to enable Gyro Controls in Fortnite Chapter 3?
The two new features, Gyro Control and Flick Stick might not be enabled on their own. You have to do that manually in the game and test them out. To do so;
Navigate to your in-game 'Settings' menu.
You will find the new 'Touch and Motion' sub-section, click on it.
Switch the 'Gyro Aiming' and 'Flick Stick' aiming options ON.

How to use Gyro Controls and Flick Stick in Fortnite?
Gyro aiming in Fortnite is similar to the 'gyroscope' mechanic in PUBG: Mobile. You can use your controller and move it around to aim at the screen. It takes a while to get used to but when you get familiar with it, it leaves you with much more independent movement and building capabilities while aiming simultaneously.
As for Flick Stick, it allows players to immediately turn in a cardinal direction when you flick with a stick. For example, if you are getting shot from behind when you flick your controller stick, your player will immediately turn 180 degrees back so you can re-adjust your aim with enough time.

Which controllers supports Gyro Aiming in Fortnite Chapter 3?
As you all know, Xbox controllers don't have a Gyroscope mechanism in-built into them. You can only accomplish this with Playstation controllers, Nintendo Joy-Cons and Mobile.
PlayStation DualShock 4 Controller
PlayStation DualSense Controller
Nintendo Joy-Con
Mobile
This wraps us today's topic regarding Gyro controls in Fortnite, be sure to follow us for more gaming Guides, How to's and Tutorials.