Fortnite Chapter 2 Season 6 has been very interesting so far and have provided players with some interesting and exciting content. Season 6 is named 'Primal' and it has introduced actual wildlife, hunting, aspects of survival and some other associated inclusion in the game. One such interesting change to Fortnite C2 Season 6: Primal is the ability to upgrade normal weapons into Primal or Mechanical weapons.
All of this stuff didn't end with the release of Season 6 but further improvements and exciting content kept coming and the developers did a pretty good job in maintaining the game. Another such interesting addition in the weapon sections of the game was a Grappler Bow. It looks very fun to have and use in the game but many players are unknown on what exactly is it and where can they find it.
Just continue reading further and all your questions about Fortnite's Grappler Bow will be answered.
What is Grappler Bow in Fortnite?
The Grappler Bow is one of the new addition to the game's weaponry and it is a unique instrument nevertheless. The Grappler Bow belongs to the 'Exotic' rarity and has some pretty amazing stats and usability instances. The Grappler Bow fires projectiles with its targeting system and the more you charge the shot, the more distance it will cover. The Bow uses arrows as ammo and the damage remains equal despite the amount of charge.
The grappling mechanism of the bow is quite useful to the players to grapple over objects or move using a high pace to avoid oncoming damage and more.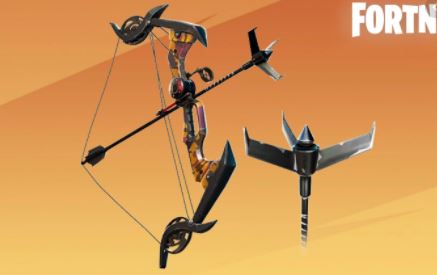 Grappler Bow Stats
The Grappler Bow stats are pretty amazing and it includes the grappling mechanism as a plus point,
Damage- 89
Fire Rate- 1
Headshot Multiplier- 2.5x
Reload Time- 1.0 seconds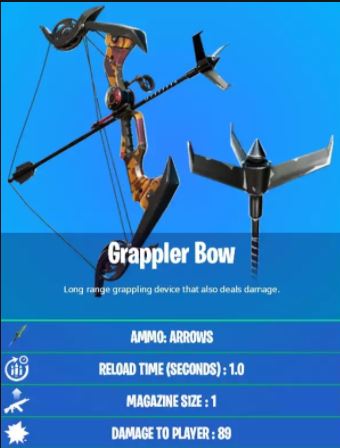 How to get the Grappler Bow
The Grappler Bow introduction came in a pack with Lara Croft's NPC introduction to the game. So it makes sense that the process of getting the bow includes her. Just hop into the game, and visit Stealthy Stronghold. Be sure to keep at least 500 Gold Bars on you so that you can trade them in for the Grappler Bow with the Lara Croft NPC.
This is the only way you can get an exotic weapon. Another noteworthy thing to remember is that Lara Croft NPC might not always go through with the trade so keep repeating the process on the next game and onwards.
Be sure to follow us for more Fortnite Guides, How to(s), Tips & Tricks, etc!