Fortnite is a game that has defied odds and made a huge impact in the history of video games. The influence the game has on the community, all around the world, is absolutely phenomenal. Epic Games are doing a great job maintaining the ever-so-popular battle royale title. It can be said that the game paved the success of Epic Games Store as a whole. Fortnite is currently on its chapter 2 Season 6 and it is named 'Primal'. It has much to do with the entire theme of the game that changed major factors in a very positive manner
Fortnite is a game that provides so much content for its player base to enjoy, setting the mark up of expectations Sky high. The game has successfully collaborated with multiple brands in the past that is a great example of perfection. The recent Beast Boy from Teen Titans, Aloy from Horizon Zero Dawn and Lara Croft from Tomb Raiders franchises are some insane example of their collaborative successiveness.
This time, we will be talking about another such collaborative project that developers are doing with DC Comics. This new collab focuses on the Fortnite x Batman comics with the Fortnite Harley Quinn DC Rebirth skin as the main attraction. To know more about this project and collaboration and how you can get this skin code for free, please continue reading further.
About the Fortnite Harley Quinn DC Rebirth skin
This is a part of the Fortnite x Batman comics series that was released and it has about six total copies.  Each of these copies comes with a free character skin that can be redeemable in the game. If the player is able to redeem all six codes then they will get an exclusive Fortnite Armoured Batman skin.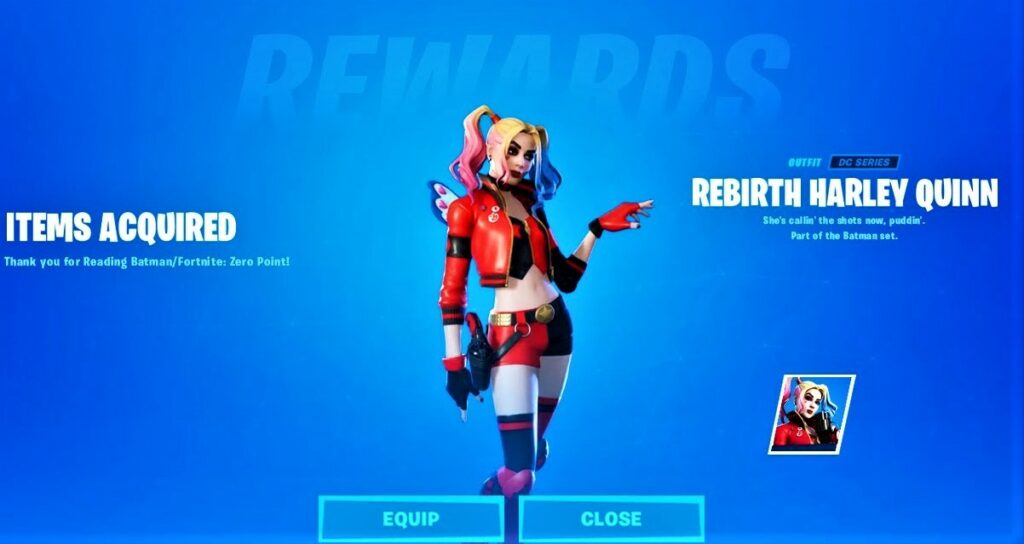 How to get the Skin Code for Free
One way to get the Harley Quinn skin code for free is by purchasing the first issue of the collaborative Batman comic from your nearest retailer. The code comes with the issues of the comic series. Another way is by subscribing to DC Universe Infinite subscription, which is a USA region the only service, will receive the code via email. There are no other ways to achieve this.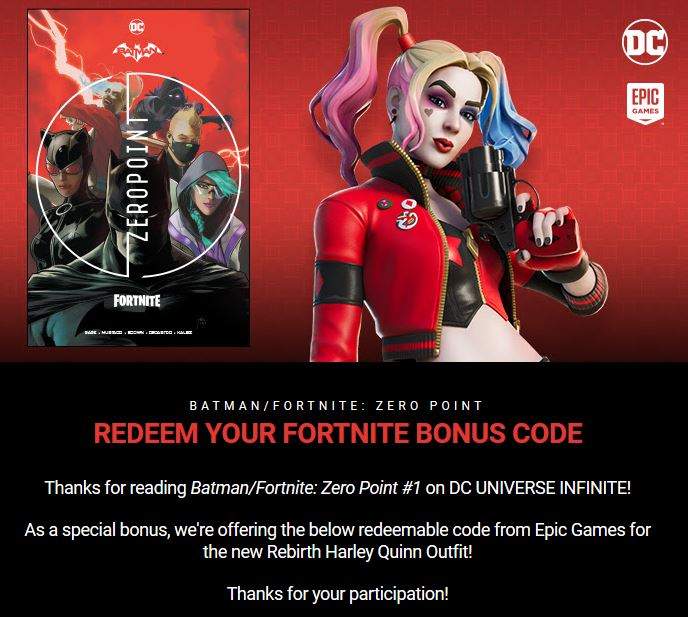 How to Redeem the Code?
Once you obtain the code, head directly to Fortnite.com/redeem. Log In with your Epic Games account credentials and paste your skin code on the required area. After that press 'Redeem' and you shall receive your Harley Quinn skin in the game.
Be sure to follow us for more gaming Guides, How To(s) and Tips & Tricks.