Fortnite is famous for its cycle of exciting and interesting addition of content to the game. These items range between anything from cosmetics, skins, quests, missions, etc.  The ongoing Fortnite Chapter 2 Season 6: Primal is going great and is one of the successful and productive seasons of the game. The wildlife, hunting, survival and weapon upgrades aren't the only exciting things that happened with this update./ There were plenty of other great features, and it looks like the developers are not done yet.
As mentioned earlier, Fortnite is hugely invested in its cosmetic section, it adds a different taste to the vanilla game. A few days earlier, the Fortnite Wildcat Skin became one of the most desired skins in the game. As per Nintendo's announcement, the Wildcat Skin is going to be a part of the brand new Fleet Force bundle. And looking at the solo success of the skin, it can be expected that the whole bundle will be widely popular as well.
About The Fleet Force bundle in Fortnite
If we look back, the Fortnite Wildcat skin came in a bundle with a Nintendo product. The entire Fleet Force Bundle is going for the same way of availability.  The Fleet Force bundle will be a tied up part of a Nintendo product. As per the official statement from Nintendo America on their Twitter post goes, the cosmetic pack will be available as a promotion on purchasing the associated Joy-Cons for Nintendo Switch.
The Fleet Force bundle in Fortnite will come with a matching coloured Glider and two pickaxes. The promotional offer for this doesn't only come with just the cosmetics but with 500 V-Bucks!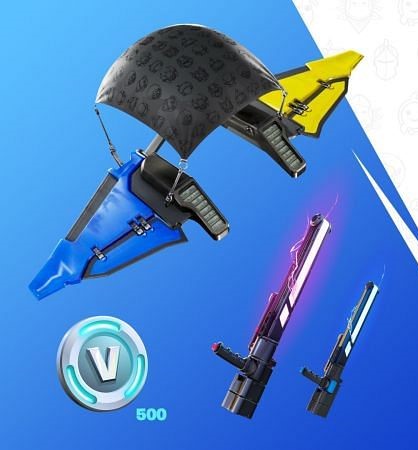 When will the bundle be available?
The bundle is not currently available in the game. However, it has a scheduled release date of 4th June 2023, along with the Joy-Con sales. 
These Joy-Cons come in a yellow and blue colour scheme, matching the bundle's most desired Wildcat Skin's second style. If you want to know, the left Joy-Con is Blue and the right one is yellow, matching the in-game cosmetic counter-match.

If you own a Nintendo Switch then you may want to go for purchasing or pre-ordering the Joy-Cons offer from Nintendo which includes both the bundle and 500 v-Bucks. This Wildcat Skin and Fleet Force bundle are exclusive to Nintendo users only, so in order to own them, you have to own a Nintendo Switch and purchase the associated Joy-Cons for the promotional offer to be effective.
Be sure to follow us for more Fortnite Guides, How to(s), Tips & Tricks, etc!