Fortnite is a multiplayer online battle royale game published and developed by Epic Games. The game was initially released as a online cooperative shooter-survival game in which four players could defend objects from hordes of zombies with the help of different traps and fortifications built by players.
Epic Games had an exciting year this time, with its battle with Apple raging on in court, to getting good news from Nvidia that it will be possible for Apple users to play Fortnite using safari. However, that doesn't mean that the company is not focusing on its alpha invention Fortnite.
The latest news on the internet is that the company has issued a new alpha for its Fortnite. According to the latest update, the company will be launching two new modes for Fortnite. They are the performance mode and secondly the rendering mode.
Performance mode is as the name suggests, will increase the performance of Fortnite on your system. العب بلاك جاك Imagine running the game of an 8th generation Intel Core-i5 processor powered by a UHD 620 graphics card. The game runs smoothly but offers only 24 fps. The game will run at 61 fps with the performance mode, at least according to Epic Games.
Whats the catch?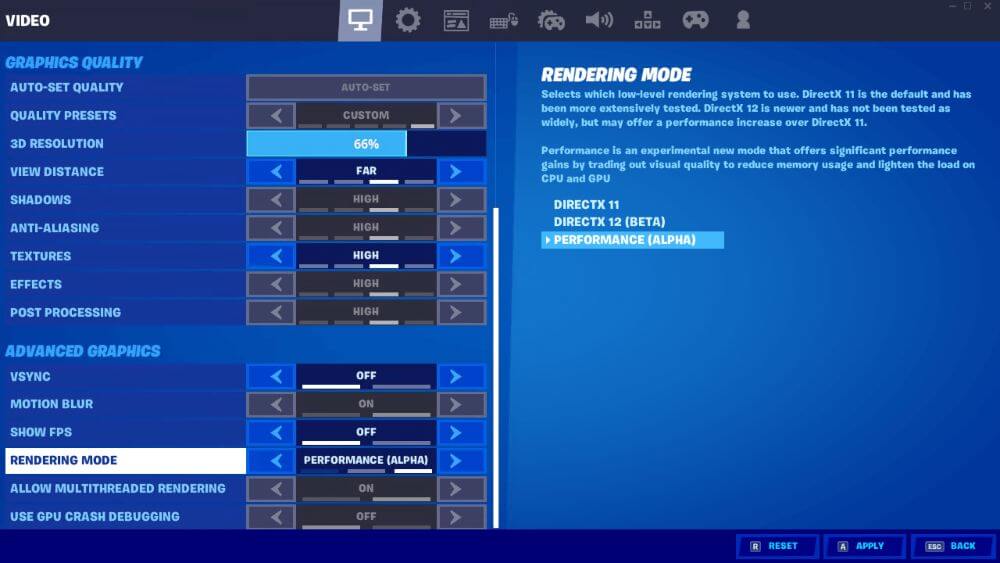 However, there is a catch. To run the game on performance mode, users will need to upgrade their system with an SSD and should at least have 6 to 8 GB of minimum RAM. It is an overkill, as which game will not improve its performance if installed on an SSD, for crying out loud. It questions the need for having the performance mode in the first place.
Those who don't want to upgrade their hardware but still want smooth functioning can opt for rendering mode. العاب كرة قدم للعب على النت It removes high-resolution textures from the game and cuts off almost 14GB of its total download size. And the result is that the game technically runs smoother, albeit without high-quality details and effects.
You can get the new options in Fortnite's options menu in the Epic Games launcher. The performance mode is only available for Battle Royal or Creative Modes but soon will come to PC. بث مباشر هولندا وتشيك And when that happens, either buy an SSD or don't bother using the performance mode.