Genshin Impact has a lot of things to offer to the gamers and its community. There are various items, materials, weapons, and playable characters to select from in the game. Weapons are one of the essential parts of the game, alongside the usage of abilities. Among the different kinds of weapons available, the polearm is a great type of weapon. 
Not every character in the game can use a polearm but for the ones who can, "The Catch" polearm is a great choice. Here's how players can obtain this polearm in the Genshin Impact.
The Catch Polearm in Genshin Impact
It is free to get a weapon of the 4-star category. It has a base ATK of 42 and has a + 10.0% Energy Recharge as Bonus Effect. It increases Elemental Burst DMG by up to 16%, alongside an increased Elemental Burst CRIT Rate by 6%.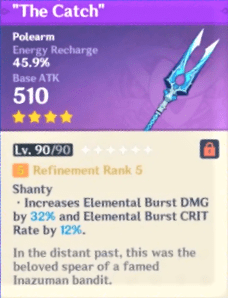 How to get the polearm?
Genshin Impact players can acquire The Catch polearm from Kujirai Momiji, an NPC vendor of the Inazuma Fishing Association. You can find Kujirai Momiji near the Teleport Waypoint that can be found at the west of Inazuma City. Locate her and interact with her to get the challenge.
Momiji will ask players to collect a few types of Inazuma fish, for which she will exchange The Catch polearm. Here are the quantity and types of fish in the Inazuma region that the players are required to get for the exchange.
20 Rusty Koi

20 Golden Koi

6 Raimei Angelfish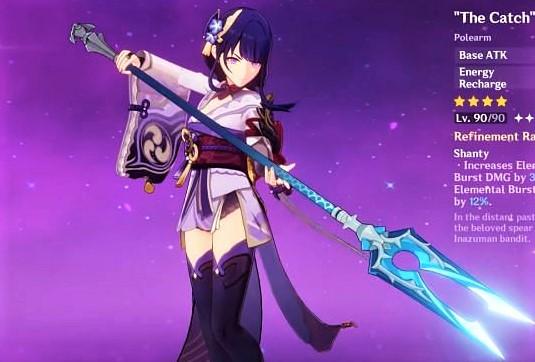 This might be a bit time consuming but players can exchange these for The Catch. Players can also get four Ako's Sake Vessels to refine the polearm. This vessel can also be obtained from Momiji in exchange for these fishes;
10 Bitter Pufferfish

10 Pufferfish

3 Raimei Angelfish
Be aware that the above-mentioned requirements are for a single Ako's Sake Vessel, hence players will need 40 Bitter Pufferfish, 40 Pufferfish and 12 Raimei Angelfish for all four of them. Players are needed to have all of them to refine The Catch polearm in Genshin Impact. 
The locations that players need to fish at are Starfell valley, Koseki village, Wangshuu Inn, Luhua pool, Mingyun village, Liyue Harbor, Ritou, Dawn winery, Fort hiraumi and Springvale.
This sums up today's guide regarding The Catch polearm and how you can acquire it in Genshin Impact. Be sure to follow us for more gaming Guides, How to's and Tutorials.