Genshin Impact 2.5 is up and live for about a month now and there are so many things in the game that you can try. "When the Sakura Bloom", as the Genshin Impact 2.5 version is titled, is now featuring an exciting little challenge that players should try. The event is called Of Drink A-Dreaming and the Bartender Challenge is a part of it. Here players get the opportunity to work at Diluc's bar called Angels' Share. We will talk about how you can start the event and some key points that will help you complete the challenge with ease.
How to participate in the event?
To participate in the event, players need to go through the Tavern Tales event's narrative quests. Through this, players will be able to participate in the special bartender challenge within Diluc's bar in Mondstadt. Speak with Luka in front of Angel's Share and then go inside the tavern. Then find and speak to Charles, who you can find around the counter. Select the special Bartender Challenge option from thereafter, and make sure to read all of the Tavern Tales to have this option unlocked.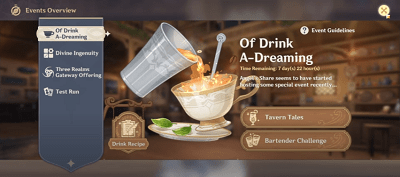 There won't be any actual alcohol involved in this event as players will have to make stuff like Tea, Coffe and a few Juices. The total number of drink recipes in this challenge will be 21 and there would be a lot of mix and match of different ingredients in order to find the correct recipe combination.
Rewards from the Bartender Challenge in Genshin Impact
There are some exciting rewards you can get from this Bartender Challenge in Genshin Impact. The main attraction reward from this challenge is the Primogems. You can get up to 120 Primogems from this challenge and players only need to score about 300 Points in order to bag it all. This means you can make three drinks and earn 100 Points each and have the 120 Primogems in your hand.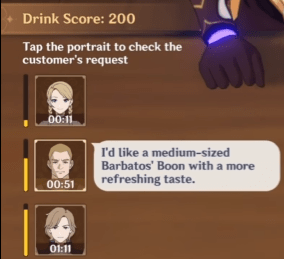 There are mainly three categories of drinks you have to make, like Coffee, Tea and Juice. Here are the three basic recipes for the drinks you can go for to get the Primogems.
Athenaeum Coffee- Ingredients [Coffee, Coffee, Coffee]
Misty Garden Tea- Ingredients [Tea, Tea, Tea]
Gray Valley Sunset- Ingredients [Juice, Juice, Juice]

This should give you plenty of time to mix and match to find the other 18 drink recipes while you are at it to get some other exciting rewards. Be sure to follow us for more Genshin Impact and other popular gaming Guides, How to's and Tutorials.