Genshin Impact's developer miHoYo has recently given us a lot of insights about the upcoming 1.5 version update. A lot of changes to the game are coming, along with the new progression in the storyline, various side quests and challenges, events and playable characters. But before the grand release of the 1.5 version, Genshin Impact has been receiving some great updates for its current version, i.e. V 1.4.
One of the major updates for the game was the Windblume festival that was a huge success and brought positive feedback, this was followed by some more exciting events and before transitioning further, we have to address that the game has been seeing some new players. This article intends to provide them with knowledge about some important and useful consumables in-game which will majorly help them in Combat.
Essential Oils and Alchemy in Genshin Impact
By now, players should know that Genshin Impact has its own crafting, purchasing and cooking mechanism that deals with various products which tend to be very useful in-game. One of such kinds is the consumable potions and essential oils introduced to the game. This awards player with various bonuses that are very vital. These items can be obtained through Alchemist shops in major cities.
3 Useful Essential Oils
Frosting Essential Oil

Gushing Essential Oil

Shocking Essential Oil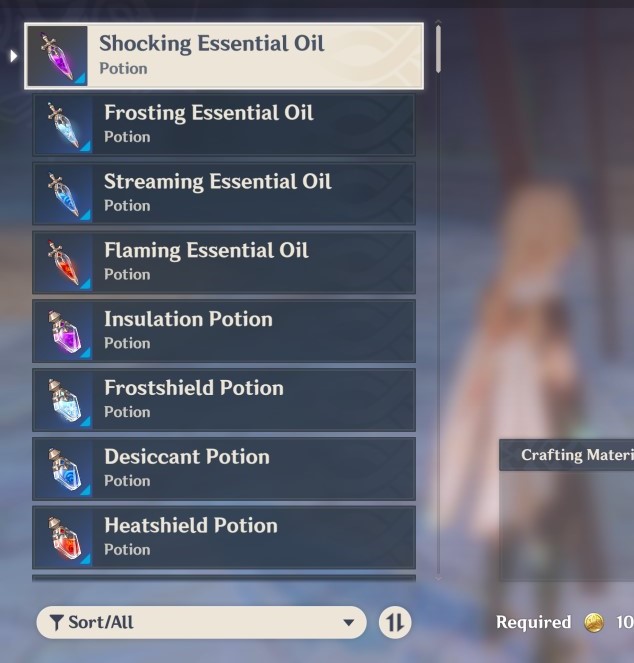 1. Frosting Essential Oil
During combat, Cryo can be pretty useful against freezing enemies and is marvelously effective against Pyro enemies that are abundantly available in the early stages. On usage, this oil will award all current party players with a 25% increased Cryo DMG. This will be effective for 300 seconds and it is quite easy to craft. Players only need 1 Lizard Tail and 1 Mist Flower Corolla and a nearby Alchemy shop.
2. Gushing Essential Oil
Anemo is another example of a commonly used power and this essential oil gives a major buff to the ability for a limited amount of time. This essential oil gives a 25% increase in Anemo DMG for 300 seconds to all party members. The ingredients for this essential oil are also easy to gather as it requires 1 Lizard Tail and 1 Dandelion Seed.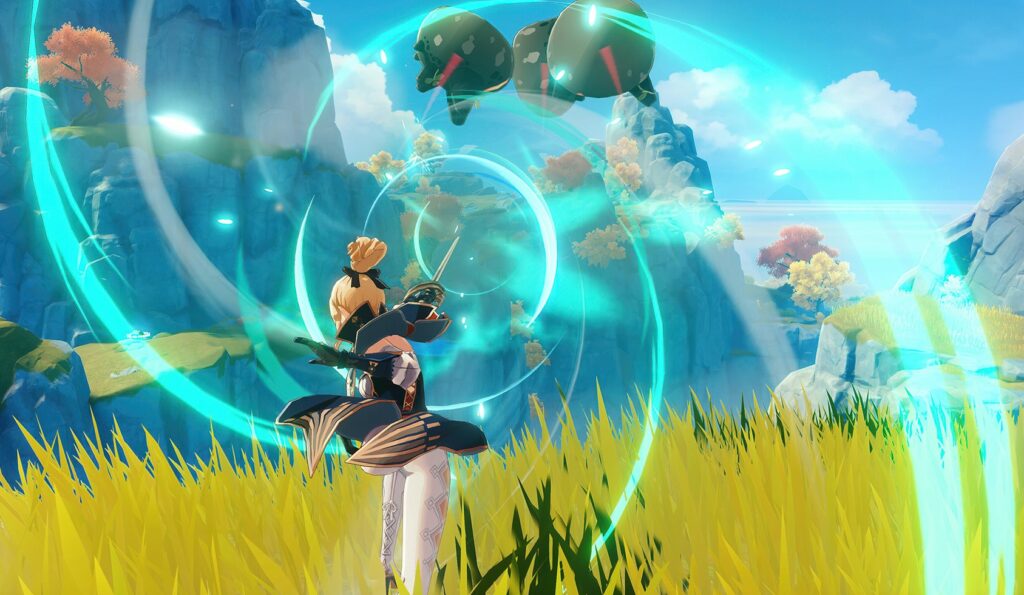 3. Shocking Essential Oil
Electro is a great ability to conduct in mid-range battle and deal heavy damage to the enemies. But it's always better to have a little damage boost to it to complement its nature. The Shocking Essential Oil gives a 25% increase in Electro DMG for 300 seconds to all current party members. The ingredients required here are also commonly found, i.e., 1 Frog and 1 Electro Crystal.
Other essential oils can also be useful but these three intend to provide the best ones for the majorly picked elemental ability characters in a party, i.e Anemo, Cryo and Electro. Be sure to follow us for more Genshin Impact Tips & Tricks, Guides, How to(s), etc.