Genshin Impact is one of the most played game in the world right now and its popularity has reached such great heights since its first release. Genshin Impact is an open-world, action-adventure, role-playing game developed by miHoYo. It has developed a worldwide and loyal fanbase throughout merely a year. The game features a vast map with unique terrains, exciting story-line and lore, smooth gameplay and many other features.
One of Genshin Impact's major key points is that it is not just focused on single character gameplay. Genshin Impact features various characters that are connected to the story and players can play with any of them if they have unlocked it. You see, each character has its own background story, elemental control, statistics, perks and abilities. These characters tend from the various rarity and the five-star ones are the real jewels.
Eula is the latest character that was introduced to the game with the latest version patch. Eula is a five-star rarity character thus her essence can be really helpful. Genshin Impact features a four-member team/ party, where players can deploy any of the characters by interchanging during combat or as necessary. Each party must be balanced so that everyone can put some equal effort, thus creating a party suitable for Eula can be hard at such early stages but we are here to guide you.
About Eula in Genshin Impact
The first thing we need to know is about the character Eula then we can produce a proper and balanced team. Eula Lawrence is the newest playable character in the game and she possesses Cryo elemental prowess. Her abilities are quite something;
Flavius Bladework – Edel [Normal Attack]
Icetide Vortex [Elemental Skill]
Glacial Illumination [Elemental Burst]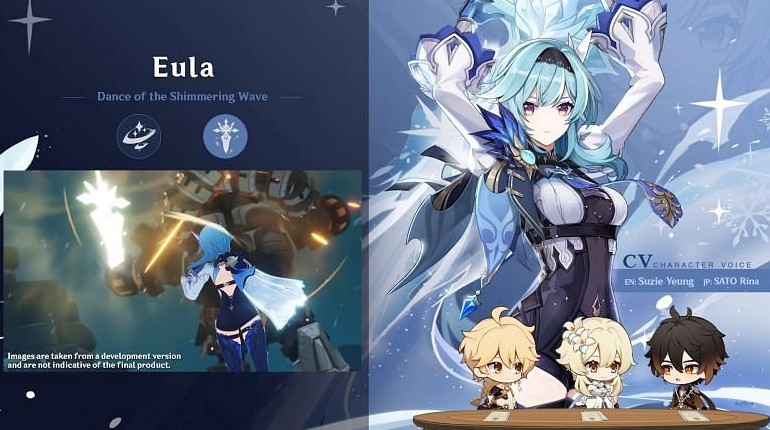 As you can see, Eula is a majorly effective Cryo user and hence the best pair she needs to have is with characters that possess Hydro, Pyro and Electro. Thus there could be various possible combinations but here is our choice of a team that shall favour Eula.
Four-Member Party Combination #1
Eula [Cryo]
Lisa [Electro]
Xiangling [Pyro]
Xingqiu [Hydro]
Four-Member Party Combination #2
Eula [Cryo]
Fischl [Electro]
Xinyan [Pyro]
Mona [Hydro]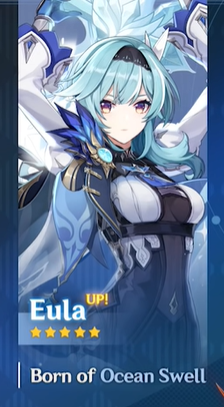 These combinations shall offer the most help when played along with Eula. You can also select any character of your liking and make a four-member team but be sure to include Hydro, Pyro and Electro. Do follow us for more Genshin Impact Guides, How to(s) and Tips & Tricks.