Genshin Impact's developers have finally released the latest 1.5 version update to the game. The 1.5 version update was in the making for a long time and with its recent release on 28th April, it has brought some noticeable changes to the game along with many new and exciting game contents. Some of the interesting events that came along with the update are the Zhongli banner run, the Housing realm, the introduction of Dream Solvent, Transient Resin, Sanctifying Essence and many other exciting features and updates.
Among them, the introduction of the new collectable resource that players can now acquire with the latest 1.5 version update. Many players are wondering about the correct usage scenario of this resource, so no worries, read further below to know everything about it.
About the Dream Solvent
As mentioned above, the Dream Solvent is one of the newest added resources in Genshin Impact. It is one of those items that players will love for its quality-of-life features. It will solely be used for its power to turn some items that are required for level-up, into other objects. It will be a drop only resource that players can get defeating game bosses.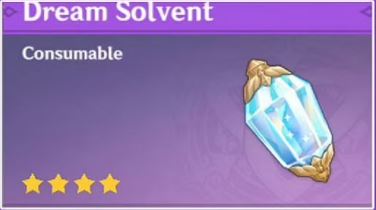 How to use Dream Solvent in Genshin Impact
Dream Solvent's use will be very vital and it is currently one of the most important resources in Genshin Impact. One knows the importance of levelling up characters and weapons in the game and it will ease the process in some ways. 
Players need to visit an Alchemy Table after acquiring the resource in question. From there, the Dream Solvent can be utilized to change any single resource into another. For example, a player can change Dvalin's Sigh into Dvalin's Claw with its help. One important thing to keep in mind is that this transformation only works for items of the same Boss.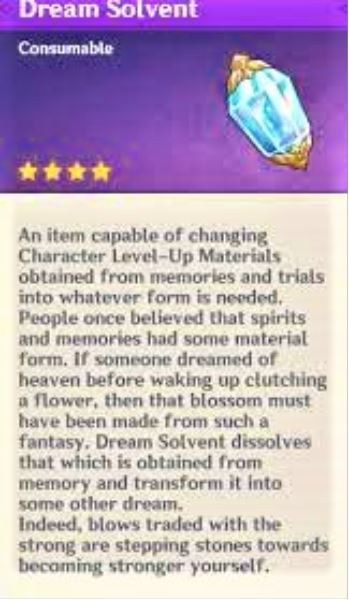 Where to find the Dream Solvent
With the latest 1.5 version update, the resource is live for everyone to gather. The best way to obtain this is to defeat the weekly bosses in Genshin Impact, like the Storm Terror, Azhdaha, Andrius and Childe. There might be some other ways to obtain this resource that will be added to the game in the future but for now, it remains a drop only from world bosses.
This has been our article explaining the new resource in Genshin Impact, i.e. Dream Solvent and its usage and the ways to obtain it. There are many other changes and new additions to the game, be sure to comment down below to let us know what you want to know next.
Be sure to follow us for more Genshin Impact Guides, How to(s), Tips & Tricks, etc!