The ongoing Fleeting Colors in Flight event in Genshin Impact 2.4 offers an exciting opportunity for all players. You can obtain a four-star character for free during this event. If you are wondering how you can do so and other necessary details, please go through this article!
Genshin Impact offers a free 4-star character!
The festival gives the golden opportunity to all participants to obtain a free new, 4-star character and allows them to unlock constellations. As a part of the Fleeting Colors in Flight, Genshin Impact players must not lose this chance and here's how you can do it!
How to get the required Talismans?
There are two talismans in the game that players need to collect from the event, as they are required for the free character unlock. The two types of Talisman required are called Affluence Talisman and Conquest Talisman. Players require to collect 1000 of each of these talismans to invite a character from Liyue.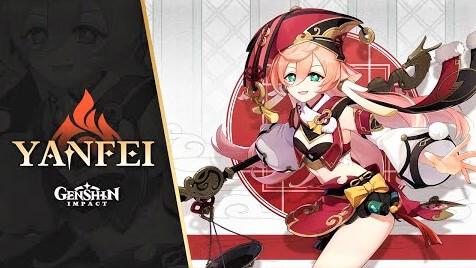 How to get Affluence Talisman in Genshin Impact?
You can obtain these talismans from Wondrous Shadows and Flameplume Starflowers activities. Players are required to solve some easy Lantern Riddles learn to smelt and makes some fireworks.
In Wondrous Shadows, players will get to solve some rather easy puzzles. All they need to do is move a few objects and create a shadow that reveals certain symbols like scales, animals, mountains, etc.
While in Flameplume Starflowers, players need to learn and use the different types of smelting techniques as each has different outputs. It can be a bit more work than the above task but is worth the effort. The ultimate goal is to make fireworks and you can adjust the flame of the fire at the top right corner.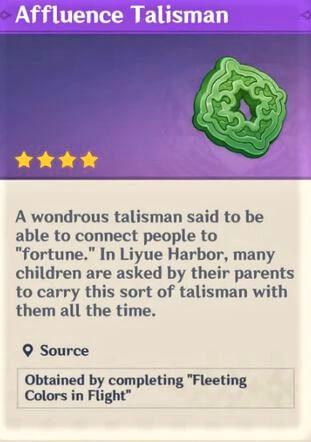 How to get Conquest Talisman in Genshin Impact?
This activity was unlocked just a few hours ago and players can now collect Conquest Talisman from this. Players need to defeat the sea monster and in doing so, they will earn many rewards, including Conquest Talisman. This is an interesting mini-game, so make sure to earn 1000 Conquest Talisman!
As we mentioned earlier, players would require to have 1000 Affluence Talisman and 1000 Conquest Talisman to get their choice of a 4-star character.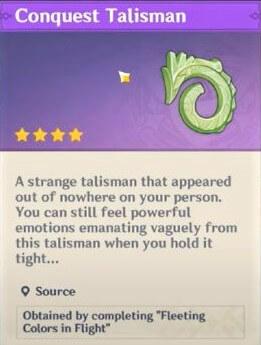 Which 4-star characters can be obtained?
If you are wondering about which 4-star characters you can get, then this list should clear your queries.
Ninggauang

Xingqiu

Beidou

Chongyun

Yun Jin

Xinyan

Xiangling

Yanfei
Make sure to do not miss out on this opportunity and as Genshin Impact 2.5 version update comes closes, we will keep you posted about more stuff. 
Be sure to follow us for more gaming Guides, Tutorials and How to's.