Genshin Impact, Irodori Poetry Part 2 Quest – So, you've been looking for a way of completing the"Irodori poem" Part-2? Well look no further, the search is over just keep scrolling below you'll get to all you need in order to complete this. In order to complete this, you need to search for the local fauna in the Islands of Inazuma.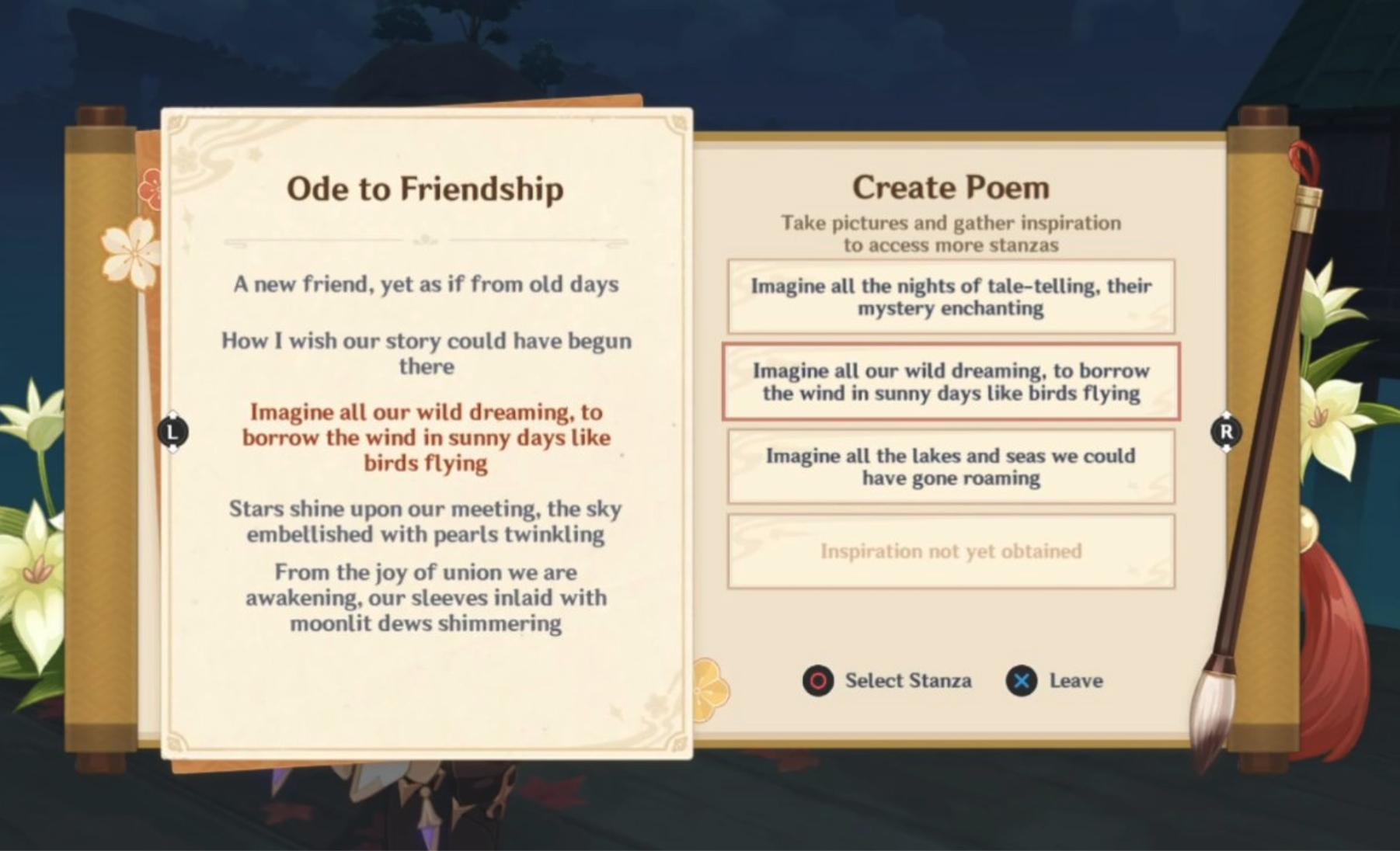 Genshin Impact Irodori Poetry, Part 2:
 The second quest in the game's "The moon and stars inscribe" is the "Hues of the violet Garden" event. In order to full fill this challenge you first need to complete part 1 of the quest and within the second quest, you need to take photos of the fauna residing within that particular area rather than snapshotting the flora. As per now, seventeen creatures in the Inazuma that you need to click using the Photo mode lens to carry out this quest.
For starters, you need to go on to speak again with Ootoma along the western docks in Ritou. After finishing up Ootomo and lenne's quiet you can begin clicking your needed pictures but this can be a pain as most of the creatures run off when you and your companion start luring in their surrounding but you can have Aloy or Sayu as their passive abilities help you to reach they, creature, without creating a fear in them.
 Just a quick disclaimer: If you've recently completed the first mission you need to wait till the next morning around 8 am to 12 noon for the second part to be available for you.
How You Can Complete Part 2 of Genshin Impact Irodori Poetry:
The list of creatures you need to click are:-
Crows
General Crabs
Pale Red Crabs
Sunset Loaches
Sunny Loaches
Pith Lizards
Violet Ibis
Kitsune
Red-Finned Unagi
Adorned Unagi
Gray Snow Cats
Electro Crystalflies
Bake-Danukis
Glaze Medakas
Lunged Sticklebacks
Purple Shirakodai
Raimei Angelfish.
Facing Difficulties in Locating, Ease it Out:
If you are facing difficulties in locating any of these in Genshin Impact Irodori Poetry you can visit the provided location as they might be of great help to you.
Priorly you can head to the waypoint situated by Konda village in Narukami and look out the roadside statues to find several kitsunes.
Secondly, you can head over to the teleporter located at the south of Byakko plain and then move westward towards the shoreline and you may encounter General crabs luring about the beach.
Then you can head over to the Kujou Encampment and move around the southwestern shores to encounter violet ibis.
Lastly, you can head over to Asase shrine to look for Inazuman cats and if you don't encounter them you can surely see some Electro Crystalflies.
Hope you will get over the Second part of Genshin Impact Irodori Poetry, soon and get all the pictures you need also share this among your friends so that they can also have known locations that will aid them in completing the event. Also, read our guide on the locations to farm Statuettes in Genshin Impact 2.6.