Genshin Impact 1.4 has been up for a while now and has been a great success so far. The game is however due to receive a big update that will introduce version 1.5 live worldwide. The game has been receiving some wonderful updates recently and before the next version update.
If you have played the game, you would already know how different materials and elemental properties are a huge part of Genshin Impact's realm. One of such important aspects in the game is the use of Alchemy and the correct use of it will be very useful in your Genshin Impact's Quest.
What is the use of Alchemy in Genshin Impact?
Alchemy is a very important aspect of the game, as mentioned before. It allows players to craft Character Enhancement and Weapon Enhancement Materials, Character Ascension and Weapon Ascension Materials, Gadgets, etc. Players must be present at a Crafting Bench in order to use Alchemy
Items obtained by Alchemy are very unique and useful in different scenarios and will surely make your quest in the dangerous vast map a bit easy. There are many things that you can craft or obtain through Alchemy but today we will be talking about the three most important and useful ones according to our choice.
1. Frostshield Potion
Cryo is one of the most useful elemental powers in the game and it is as difficult to fight against. Frost attacks can inflict heavy damage and enemies with these abilities are usually fast and effective. Dodging Frost attack is also a tough matter and hence the use and importance of Frostshield Potion come. Frostshield Potion is a potion in Genshin Impact that will reward players with up to 25% of resistance against Cryo enemies.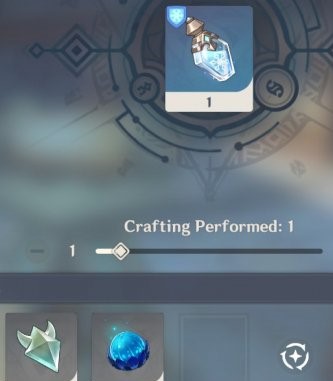 Players need to gather Mist Flower Corolla and Crystal Core in order to prepare this potion.
2. Insulation Potion
Electro is another dangerous elemental power that is very effective when used against you. It is a short to mid-range ability and can be vital during combat as enemies like to charge towards you. The Insulation Potion is very useful here as it rewards players with 25% resistance against electro damage. This is very important during battles and a must-have potion in your inventory.
Players need to gather Electro Crystals, found near Stormterror's Lair,  and Butterfly Wings to prepare this potion.
3. Portable Waypoint
Waypoints in Genshin Impact are a lifesaver, quite literally. Players love to explore and roam around the vast map of the game but sometimes a little shortcut is necessary in order to avoid time wastage, unnecessary fights, etc. Waypoints are also useful to move quickly around the map and vent during a fight that is a lost cause.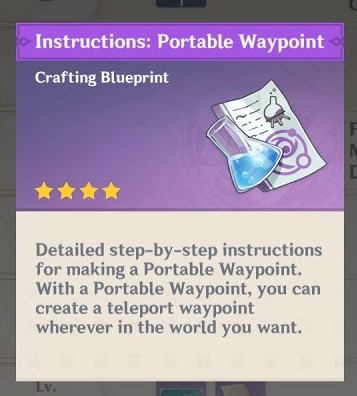 But Waypoints are fixed objects and are not versatile in usability, thus comes the usefulness of Portable Waypoint. It is a tool that players are awarded on reaching Level 6 in the Monstadt Reputation System. It can be placed anywhere in Tevya, except inside a domain or on water bodies.
Players need 1 Dead Ley Line Leaf, 2 Luminescent Spines and 5 Crystal Chunks to craft this tool and only one can be active on the map at a time.
Be sure to follow us for more Genshin Impact Guides, Tips & Tricks, How to(s), etc!