Fortnite is known for its various little towns and locations where you can explore, build and battle it out. However, to make the game more interesting, it is fun to venture out to new locations and explore them. One of the popular locations which you should explore is Lake Canoe.
Lake Canoe: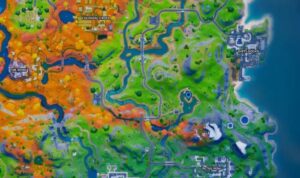 It is a small lake that is known for its fishing, but where is it? Lake Canoe can be found in Fortnite Chapter 2. It is a tiny island surrounded by a small body of water. It is filled with many canoes and kayaks, and as well as a campfire to boot. 
You would have come across this area before as part of a few quests in chapter 2 season 6, but it's also a good place to start. There are a few benefits of this lake. You can find a large yellow house nearby, which will be home to a few chests. Moreover, you can also head up the river with the motorboat, or you can relax and fish in peace. So now you know how to find this lake and explore a new area in Fortnite.