Monster Hunter Rise is the latest edition in everyone's favorite Monster Hunter series. You can hunt a wide variety of monsters or can team up with up to three other players. The game can be its most fun with friends but is still great playing alone.
The new entry in the series has brought back a lot of old favorites from the original Monster Hunter Roaster, and one such monster is the Royal Ludroth. The leviathan monster first appeared in the third generation of Monster Hunter games, and now it comes with more polygons and smoother animations.
Defeating The Royal Ludroth
The leviathan monster, Ludroth is "small", but still larger than the player,  and is categorized under lizard-type monsters that can spit water at the player for some damage. The Royal Ludroth on the other hand is much larger and more deadly than regular Ludroth.
Its spongy mane can keep the monster hydrated and makes it possible for the monster to make its nest in watery areas of the Flooded Forest and Lava Caverns.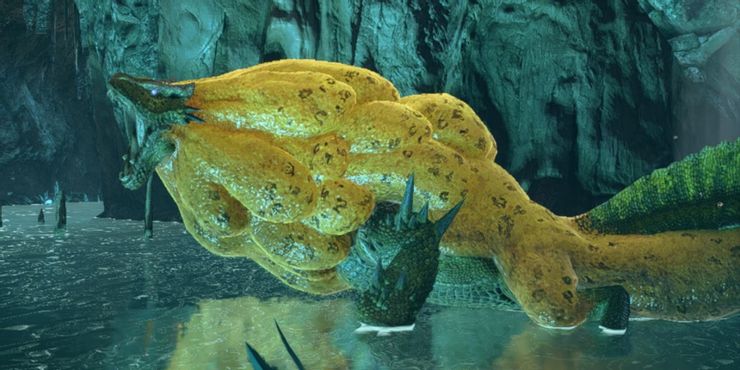 Its main powerful attack is to spit mucous at the player. The attack will inflict players with watertight and reduce their stamina. To quickly get rid of watertight, players can eat a Mulberry, so be sure to bring some or gather them before fighting.
A good strategy is to try and attack the spongy mane of the Royal Ludroth. Not only does this do significant damage to it, but enough attacks can break the mane. After the mane is broken, it drops a material and has less effective attacks.
Another favorite strategy is to attack its head and finally, its tail can be severed with a bladed weapon. This approach is a hard-core fight and won't be easier, however, it's more fun and players will get material from carving the severed tail.
But be sure to draw it away from water, so that it can dry out with its every major attack. Its attacks lose effectiveness, and visually, its mane loses its color and shape. Be careful about attacking it from the side though, because it can and will attempt to roll over the player.
The Royal Ludrith can be hunted with any type of weapon that the players are comfortable using. However, the monster is particularly weak against fire-type and thunder-type weapons.
However, it is immune to the water element and resistant to the dragon element. So be smart and choose the weapon that is suited best for the monster. عدد قوارير البولينج Players can make some great armor and weapons from materials gathered from the Royal Ludroth.
Monster Hunter Rise is an action role-playing game developed and published by Capcom for the Nintendo Switch. قنوات بي اوت سبورت Released worldwide on March 26, 2023. A Microsoft Windows version is currently in development and is planned for an early 2023 release. baloot