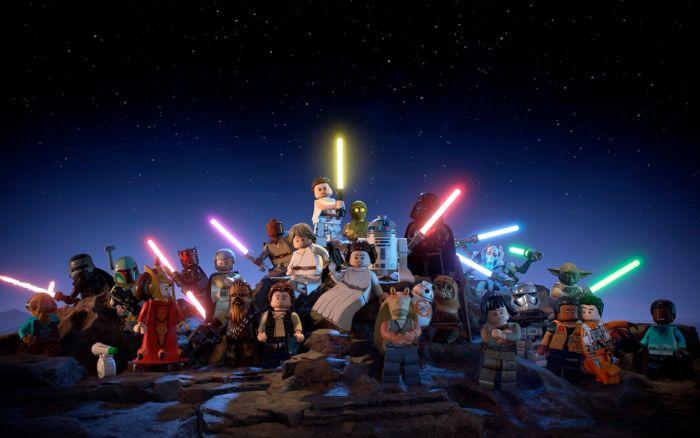 Is there anything better than gaming? It's an amazing way to pass the time, a hobby to enjoy. And to some people, it's even a livelihood. But sometimes, you can just have too much of a good thing. It isn't always enough even if there are recent updates, such as add-ons and events on Assassin's Creed Valhalla. You want to play something new to relieve the boredom of your current games.
That's why we take a look at the top five games for you to try next – but there is nothing at the moment for Call of Duty fans.
LEGO Star Wars: The Skywalker Saga
It seems like we've been waiting for ages for the latest LEGO game to be released. And truth be told, we have. We were treated to a trailer at big gaming conventions here and there, but the release date kept getting pushed back.
It's been very frustrating because amid a global lockdown, a bit of LEGO Star Wars would have gone down well with a lot of people. But the wait was worth it, as always seems to be the case with LEGO games.
Even though the first two trilogies had their own separate games and were in another bundle, if they kept re-releasing LEGO Star Wars, we'd still buy it. And that goes for the latest version. It allows you to play any of the three trilogies in whichever order you like.
Combat has been remastered, so blaster characters don't just point and shoot while the lightsabre wielders have new moves too. If you love LEGO, and even if you don't like Star Wars, you're sure to enjoy this game.
Chrono Cross: The Radical Dreamers Edition
JRPG fans can rejoice as Chrono Cross: The Radical Dreamers Edition is coming to all consoles. Yes, not just Nintendo Switch, but for you Sony and Microsoft fans, you will be able to play the epic game on your consoles, too.
This Square Enix game features two remastered versions of two classic games – Chrono Cross and Radical Dreamers, which act as the sequel to Chrono Trigger. As well as enhanced visuals, an epic new soundtrack, this game has all you know and love from the originals. Except it looks better, plays better, and is better.
Prominence Poker
One game that is always undergoing regular updates and provides a nice spin on poker is the cartoon world of Prominence Poker. With graphics that wouldn't be remiss from a GTA game, on Prominence Poker, you enter the seedy underworld of the poker scene.
Pick your opponent from The Beast, The Outlaw, The Mayor, The Godmother, or The Hammer, and unleash your poker skills. If you want to move away from the seedy world of underground gambling, then stick with the licensed and regulated world of real online gambling. These sites are provably fair, have great games, including variants of poker, and offer the chance to play without nasty characters like the Kingpin-inspired Mayor!
MLB: The Show 22
There are lots of sports simulators out there, and each year you'll see the regulars. The NHL games, the football, and basketball. But one game that shows its popularity isn't constricted to its country of origin is the MLB video games. Starting out in 2014, MLB has been the sole baseball simulation game on the market. It's received critical and commercial acclaim for each release, and now the 2023 version can be enjoyed.
The PlayStation exclusive gives you more than just experiencing the game of baseball from the comfort of your console. New enhancements to trade logic stop teams from swapping their star players for relief pitchers; there's also a new co-op mode so you can team up online with friends to take on challengers around the world. Plus, there are changes to the March to October season, which lets you take on multiple seasons rather than just playing your way to World Series glory.
If you're a fan of baseball, you'll appreciate all the new additions. If you're not, you'll be able to learn more about the sport and get completely lost in it.
Nintendo Switch Sports
Whether it was the Wii, the Wii U, or the Nintendo Switch, the company knows how to create fun sports simulation games. The latest in the Wii Sports series is Nintendo Switch Sports, which brings some of the popular games, including tennis, bowling, soccer, volleyball, and some new ones. You can use the Switch's Joy-Con as you did with the Wii remotes to help you play the sport. And as well as the Mii avatars, there are Sportsmates to add some fun new characters!
Don't get bored by your usual games; try out some of the new releases. You won't be disappointed.