PS Plus subscription allows you to purchase games from the PlayStation store at heavy discounts. PlayStation is a monthly subscription for PS4 and PS5 consoles. It is offered by Sony to those users who want to experience the extra benefits that are associated with the subscription. If you want to take a PlayStation Plus subscription, then you will be privileged to play games online through your console.
Besides, it also allows you to play nearly 30 PS4 games to play free of cost. The PS Plus subscriptions also allow you to access certain privileged offers including early game access and playing exclusive game content designed only for PS Plus members.
Cost Price of PS Plus
The PS Plus membership is available in 3 different options depending on the span of subscription. Based on that, a PS+ subscription is available for 1 month, 3 months, and 12 months. If you choose to subscribe for one month then the cost is £6.99 / $9.99. The subscription for 3 months is available for  £19.99/$24.99. If you choose to take a subscription for 1 year, then it will cost you  £49.99 / $59.99. The bigger the better.  Thus,  the 1-year subscription will enable much more offers including discounts and the privilege to celebrate black Sundays and cyber Mondays.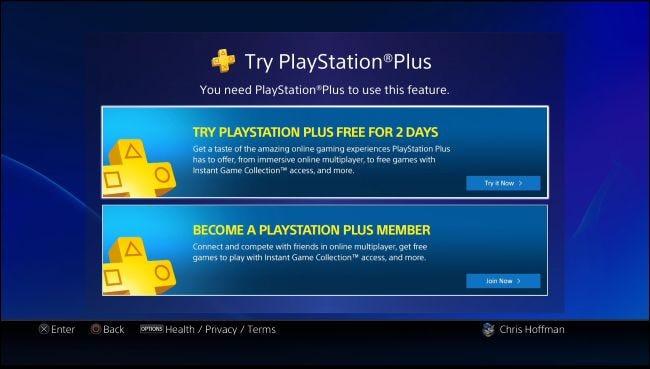 Subscription and Benefits
You can create your PlayStation Plus account through your console, PlayStation Store, or through the vouchers that have been offered to you by retailers. Either way is good and almost the same. There is a list of benefits that you can access through an online subscription to PS+. You can play the single-player and multi-player game online, at least download 2 PS4 games a month and play them without paying any extra cost. PS+ provides exclusive discounts on online purchases from the PS store. Above all, all the PS+ members get 100 GB of cloud storage to save game progress. What else is required?
Name of 10 Free Games
PS Plus subscription allows playing nearly 20 games for free of cost. Here is the name of 10 games that you can download and play in your PS4 or PS5. The games include Batman: Arkham Knight, Battlefield 1, Bloodborne, Call of Duty: Black Ops III – Zombies Chronicles Edition, and Crash Bandicoot N. Sane Trilogy. The other games include Days Gone, Detroit: Become Human, Fallout 4, Final Fantasy XV Royal Edition, and God of War. There are 10 more games in the bucket that you can explore after taking the subscription.