Resident Evil Village is the latest edition in the awesome and long-running Resident Evil franchise. شرح موقع 1xbet And as the trend follows, this game too has some puzzles which the players have to solve and these puzzles are as nerve-racking as always.
The story of the Village follows Enthan Winters on a quest to save his daughter. تصفيات كوبا أمريكا 2023 Our protagonist has a janitor's keyring attached to his hip from all the keys he'll be gathering. And among those key's Lady Dimitrescu's key is the most important one in Dimitrescu's Castle. However, one confusing puzzle is keeping players from finding it.
Once you make your way into the courtyard, players will be prompted to follow Lady Dimitrescu up a flight of stairs. This time you will be searching for her key and it is kept hidden inside her chambers.
But, her bedroom is locked, she is a lady, she has to keep her room locked. And as it happens, currently, she is pretty pissed off about the death of her daughter.
To get closer to finding Lady Dimitrescu's key, players will have to solve the Hall of Ablution Puzzle. And the puzzle though seems easy to have players scratching their heads for answers. So, here's how to solve the Hall of Ablution Puzzle in Resident Evil Village.
Hall Of Ablution Puzzle Solution in Resident Evil Village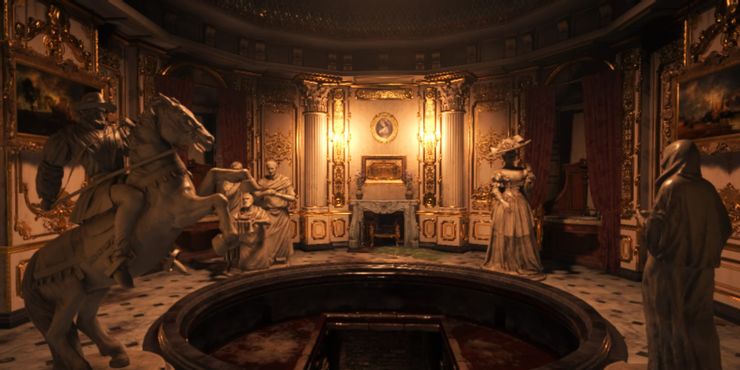 In the Hall of Ablution, players will face four statues surrounding a pool of wine or blood, I prefer blood. Since ablution means, "the act of washing one's self" we can safely assume Lady Dimstrecu bathes in blood, that's so villain-like. You can see at the back of the room there is a riddle/poem reading, "Women are blind to male advances, but the poor shall take their chances to give their Lord their bounty sown, so that soon the wine may flow."
The poem provides some useful hints but unless you are a genius of my level, you have to resort to guessing when it comes to solving the puzzle. To solve the Hall of Ablution puzzle, the two women must face each other, the horseman must face the woman with the wine bottle, and the three poor men must face the horseman. Interact with the statues to turn them left or right.
The poem is extremely confusing because it says, "the poor shall take their chances to give their Lord their bounty sown." The woman who holds the wine cup looks like Dimitrescu's spitting image, also known as one of the four lords.
Well, finally when the arrangements are done, the pool in the middle of the room will empty, and Ethan will be able to continue his quest. Completing the Hall of Ablution Puzzle will put players one step closer to finding Rose and escaping this hell hole once and for all. موقع رهان كرة القدم
Spoiler alert! Our main protagonist has one messed-up physic.