Valorant has a wide range of weapons skins and other cosmetics upgrades for its players. It won't obviously give you an unfair advantage in the game and will only enhance your player account and gameplay experience. Amazon's Prime Gaming is a great way to receive monthly freebies in many games across the board. One of the games where you can take advantage of your Prime gaming subscription and get cool rewards is Valorant. And here's how you can avail the new Wayfinder Player card in Valorant!
About Prime Gaming in Valorant
Like many other games, having an Amazon Prime account linked to Valorant will get you some monthly cosmetic rewards for free. Last month, players had the opportunity to avail the sleek looking handgun skin, called the Wayfinder Shorty. And this month, players have the chance to get their hands on a brand new Player Card, called the Wayfinder player card. 
Player cards are cool looking player banner that shows up on your profile during in-game lobbies. They have a unique art style that really enhances your profile. And mix it with the act rank badge and titles to make it look amazing.
How to get the Wayfinder Player Card in Valorant!
The process is very self-explanatory. To get the Wayfinder Player Card and other monthly cosmetic freebies like weapons skin, player banner, gun buddies, etc. you will need to have a valid Amazon Prime Gaming subscription. It comes included with your Amazon Prime subscription, so all you need to do is link it with your Valorant account.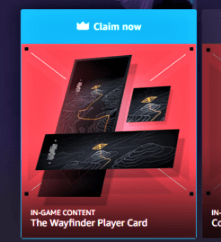 Just go to the Prime Gaming loot page by clicking here, and click 'claim' on the monthly freebies, in this case, the Wayfinder Player Card. Then you will be redirected to the Riot Games website, where you need to link your Valorant account with your Amazon account.
After that, you should have your new Player card in your inventory the next time you open Valorant. There's no other alternative to get these stuff as they are exclusive to Prime gaming members. But keep in mind that this service is not available for some regions. For example, even if you have an Amazon Prime gaming subscription in a region like India, you will not be able to receive these freebies even if you link your accounts. So check that beforehand if this offer is available in your region or not!

This concludes today's topic, be sure to follow us for more gaming Guides, How to's and Tutorials.