Valorant is Riot Games top contender in the 5v5 Team-based tactical FPS genre. This genre was previously being dominated by CSGO and with the release of Valorant, the spotlight has shifted a bit. Valorant's popularity has skyrocketed and it has already gained a massive player base around the world. Many players, big organizations, sponsors and investors have already been associated with the wave. There are so many things that people like about this game and goes to a certain point to crown it the new emerging king of the FPS.
The developers and the community have a close relationship with the game and it can be seen updates after updates. This growing world is defying gender and social norms with each day passing and Riot Games are one of the bold companies that are supporting the heart. As you all know, the month of June is also known as Pride Month where everyone celebrates along with the entire LGBTQ community.
Riot Games have announced their close support for this great movement in their own special way. To celebrate Pride month along with the community, the developers have released seven different player cards known as the Valorant Pride Celebration Drop and players can pick them up for free until the end of this month to represent who they are and what they support.
About the Valorant Pride Celebration Drop
Valorant has a wide range of choices in the cosmetic section. It is a free-to-play game and the prime way the company earn revenue is through the game is via cosmetic sales, similar to popular games like Fortnite. There are gun skins, charms, cards and player banners to name some of the items. This Pride Celebration Drop is a selection of seven different player cards that are composed of different colour-scheme, each representing different sexual identities like bisexual, asexual, non-binary, pansexual, transgender, gay and a rainbow one representing the entire LGBTQ+ community.
How to redeem the Pride Celebration Player Cards
 These are free to redeem for anyone who plays the game. However, these are only redeemable till the end of June, so hurry.
Head to redeem.playvalorant.com

Log In with your Riot Account

Enter the code for the card they desire to have.
The Codes for all the cards
Bisexual Player Card- "SUNSET"
Asexual Player Card- "TWILIGHT"
Non-Binary Player Card- "GALACTIC"
Gay Player Card- "SHERBET"
Pansexual Player Card- "PRIMARY"
Transgender Player Card- "COTTONCANDY"
LGBTQ+ Player Card- "PRISMATIC"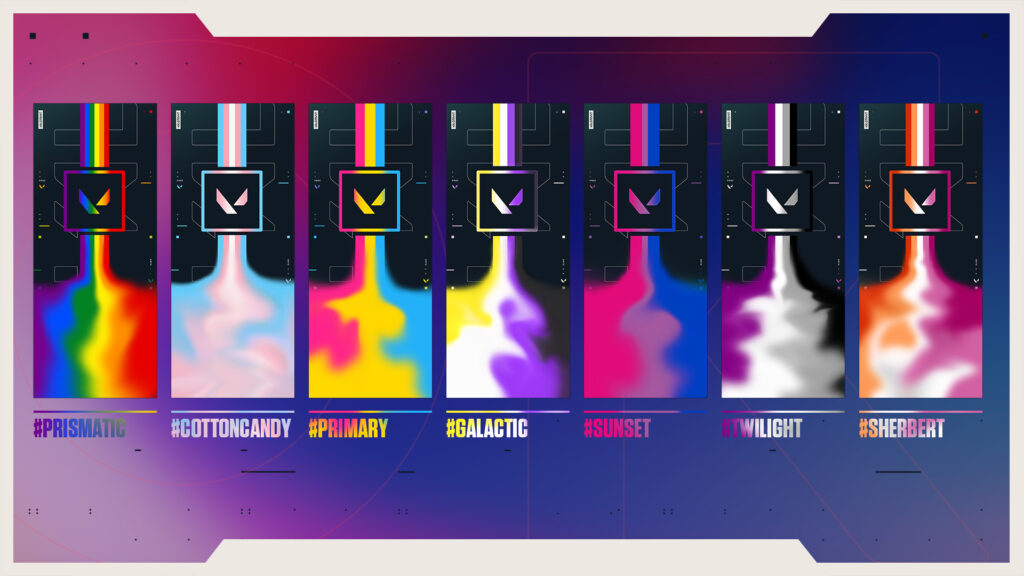 This has been everything you need to know about how to redeem the player cards in the game. Be sure to follow us for more Guides, How to(s), and Tips & Tricks.