Valorant is a competitive 5v5 FPS game and as competitive FPS goes, having stable Frames per second figure is very important. You can play the game on 2K resolution 40 FPS but will it be worth it? No. You would at least need a stable 60 FPS+ on average for a game like Valorant if you want to compete in the higher leagues. A key to do so come within setting the right options in the game's video settings. We will guide you through it and you will surely find something you would be comfortable with headshot enemies.
Guide to Valorant's Video Settings
Resolution
It's not always wise to play at 1080p even when your monitor supports it. Everything comes down to your PC hardware, in this case, the amount of Ram, GPU capability and CPU power. Valorant is less GPU intensive but highly relies on CPU. Having a balanced system is the right choice to achieve the most out of your system. Also, more FPS is always better but having at least more than 100 FPS+ on average should get you going for now.
If you have a GTX 1060 or anything equivalent or better, you can easily play on 1080p resolution with the highest refresh rate that your monitor supports. But if you are running something low, playing on these resolutions would be a great idea for the maximum output. Like 900p, 1366×768, 1280×720 and even 1024×768. Many people have a 60hz monitor that supports a 75hz refresh rate if Valorant is played on 1024×768 at 4:3 stretched resolution. CS: GO players are very familiar with these settings as it gives the best FPS out of others on low-end GPU.
Display Mode
Always play on Fullscreen mode no matter what. Never try to play on windowed mode or Fullscreen windowed mode as they narrow down performance by a lot.
Other General Display settings
Limit FPS on Battery- Turned OFF
Max FPS on Battery– Turned OFF
Limit FPS on Menu– Turned OFF (even turning this on won't matter in the match)
Limit FPS in Background– Turned OFF
Max FPS in Background– Turned OFF
Max FPS Always– Turned OFF (If your FPS fluctuates much below 60 then turn this on and set '60.0')

Nividia Low

–Latency Reflex- If you have an Nvidia GPU then you'll have this option. Turn this on and set it to 'On' for the best results without putting much pressure on your GPU.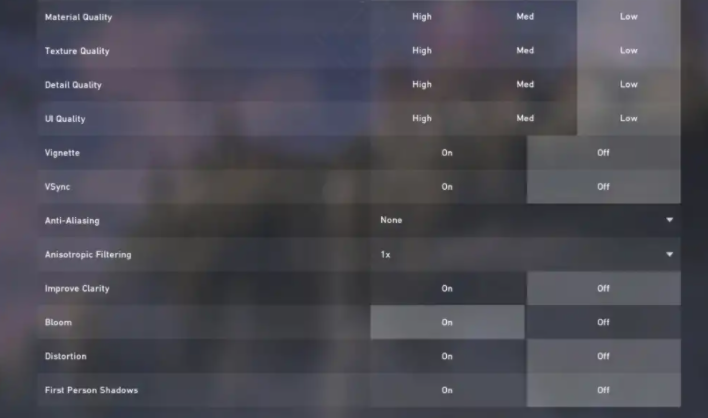 Graphics Settings
Multithreaded Rendering
Turn this on if your CPU has Dual threads or more. This will divide the load on your CPU and the game would run much smoother.
Quality Settings
These includes series of settings and if you are running a GTX 1060 or better with an i5 7th Gen and 8 GB of Ram, you may as well keep these at High and won't face any major performance drops. But if on low-end hardware, drop these settings down for the best measures and better visual sight.
Material Quality- Low
Texture Quality- Low
Material Quality- Low
UI Quality- Low
Vignette- OFF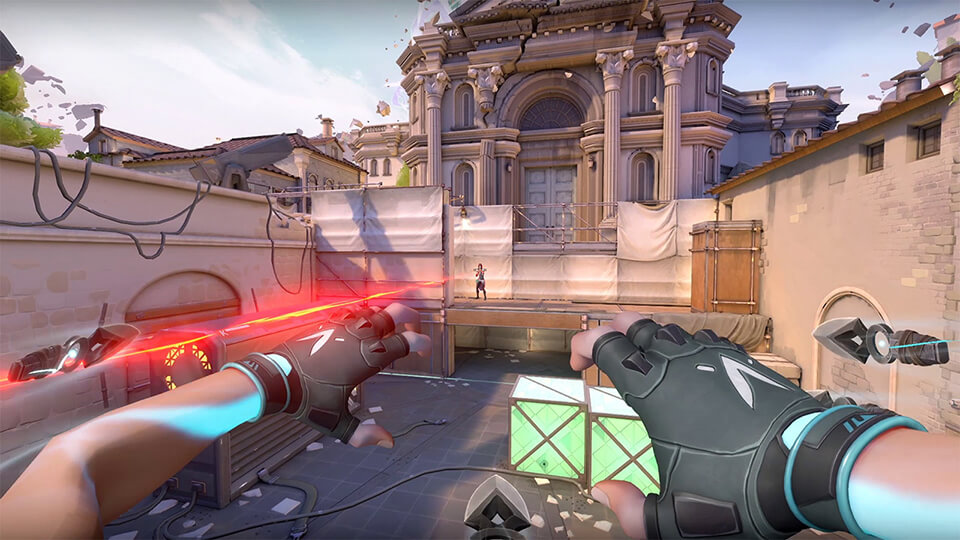 VSync
Definitely Turn VSync off otherwise it would cap your maximum FPS to 60 and you would not want that in a competitive game. Vsync is good for single-player tiles but not ideal for these scenarios.
Other Graphics Quality Settings
Anti-Aliasing- None
Anisotropic Filtering- 1x
Improve Clarity – OFF
Experimental Sharpening- OFF
Bloom- OFF
Distortion- OFF
First-person Shadows- OFF
Stats
Turn only Ping, Client FPS and Total Frametime for this as you would need them the most. Monitor your FPS through it as try keeping is above 60 as an average and check your Frametime, it should not be more than 8-12 ms. If your FPS is lower than that with more frame time, consider lowering the resolution and the above settings.
These are the best settings to provide the most performance in Valorant. Be sure to follow us for more Valorant guides, Tips and tricks, How To(s), etc.