Cyberpunk 2077 is a beautiful mess with lots of bugs. When it was revealed that Keanu Reeves was starring in the game, man, we were excited! But after the launch, the game didn't measure up to all the hype. As such, the game was at the receiving end from not only the gamers but also from console owners and other platforms.
Recent news indicates that the game has received a new label warning on Microsoft's digital games store. The game's performance on the company's Xbox One was so bad that Microsoft has finally decided to warn its users about the game.
"Users may experience performance issues when playing this game on Xbox One consoles until this game is updated," the warning reads. فلم كازينو
Now guys, Microsoft warning its users about bugs means it's a big deal. I mean, every update of Windows 10 is infected with one bug or another. العاب صالات But the Redmond giant is informing its Xbox One users to stay away from the game for the time being.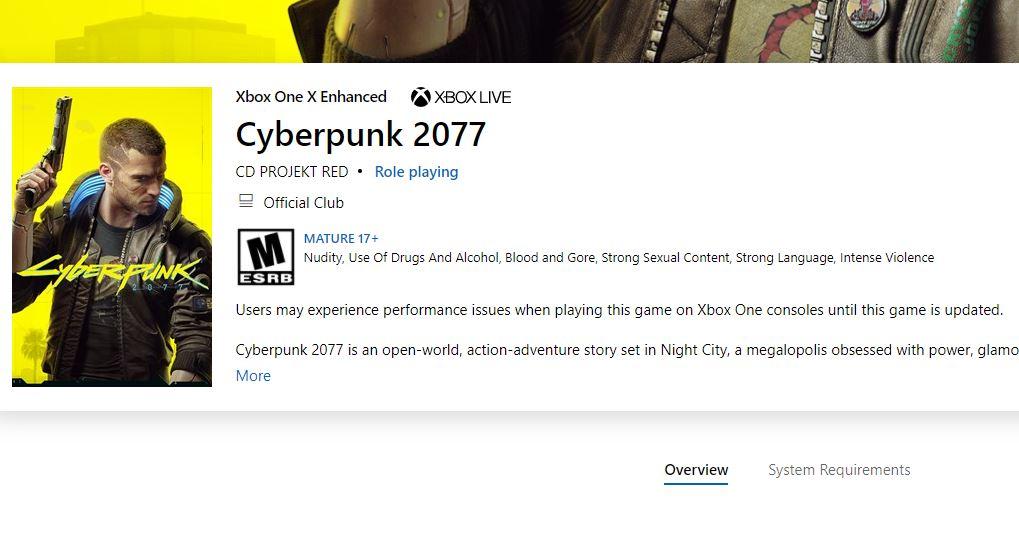 We have seen players finding numerous bugs and performance issues with Cyberpunk 2077 since its launch last week, especially on the Xbox One and PlayStation 4. The dissatisfaction of users has led the company to issue a public apology and offer a complete refund of their purchase. Sony's disappointment with the game made the console giant kick the fun out of their PlayStation's Digital market. And what's worse is that many players are having trouble getting refunds, given Sony and Microsoft's typically strict policies for issuing digital games refunds. ارقام الحظ لبرج الدلو
Here's an example of how buggy Cyberpunk 2077 is:
Though Sony is offering refunds, it was still a drastic measure to kick the game off its digital store. Microsoft remained neutral and has kept the game on its stores while issuing a warning for its users. It's unclear if Microsoft or CD Projekt Red applied the label, but the fact is it's still there, and the game is still buggy. CD Projekt Red has so far released two post-launch hotfixes to help improve the game's performance. According to the studio, there are also two larger patches in the works for January and February that will fix "the most prominent problems" players see on older consoles.