Have you too seeing Rust content, all over Twitch and YouTube? Here's why.
The power and impact of streaming are so huge that it can literally make a game go viral in no time. The previous year, two games Among Us and Fall Guys, took the gaming scene by storm majorly influenced by streamers on Twitch, YouTube, etc.
This time, it is the chance for a game that has been around for a long time now and is quite well-known. But with the recent influence of the streamers, the craze for the game is just skyrocketing.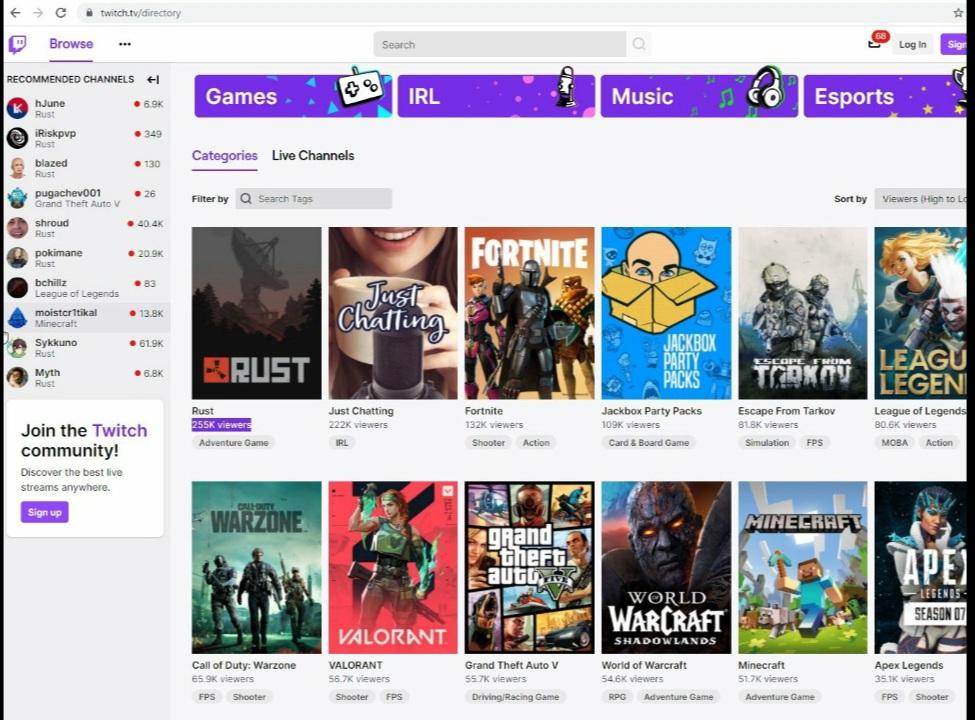 Rust's resurrection
Rust was initially released under 'early access' in Dec 2013 and was finally released as a full version in February 2018. In the meantime, it has gained so many loyal players that the game is still very relevant in the community. The game is both loved and hated around the world, as it is as rewarding as it is painful.
Many describe the game to be very cruel and hard to get a grip of and those same people love this game for those traits only. It is what makes Rust unique, it's just too fun to play and even fooling around. Sure, it gets annoying and players get tilted sometimes when a camper or a strong clan attacks a guy with literally nothing but a stone, but it still never gets too shabby to enjoy.
Recently, a popular group called the 'OfflineTV', that includes a group of popular Twitch streamers and Youtubers, set up a private Rust server for streamers. There they could play the game like they want, while PvP-ing and Role-playing.
Many of the streamers and Youtubers that joined the server via invites included Welyn, Shroud, Pokimane, Valkyrae, Corpse, Jacksepticeye, penguinZ, and many more. All of these personalities have a heavy influence on their respective fan base and supporters that helped in the sudden upsurge of the game. This is a great thing if not said before.
Though there was some controversy regarding this step, everyone learned to look past that and enjoy the game, as games are meant to.
One of the developers of Rust, Garry Newman, who is also popularly known for Garry's Mod or GMOD, has also praised the new efforts.
Rust on track to double it's previous high player count.. which was set like 4 days ago pic.twitter.com/1AP0hkJ6EH

— garry (@garrynewman) January 7, 2023
About Rust
Rust is a multiplayer-only video game that focuses solely on survival. You will be thrown into a map, barehanded, with other players. You have to rely on supplies across the map to shape your survival from thereon. This allows PvP confrontations throughout the game and raids on other's utilities to scope out your chances.
The game is hard for the first timers but once you get the hang of it, it will grow on you in no time. The game is hard as there is no set difficulty level in this game as it's all PvP. Only the well planning, better judgements and strong will to survive lead to a good survival in this game.
An interesting aspect of the game is that no matter on which server you chose to play, all player progress will go wiped away every week so that people can focus on rebuilding their lives on the game. This is like a new chance given to do things a different way and even the previously unfortunates ones could build up a proper base this time. This feature maintains the integrity of the game by erasing the boring and similar on way contents of the game.
Can I run Rust?
Rust sounds very complicated and hard and the same thing goes in the case of running it. It is a very demanding game to run with so many lower-end hardware gets affected in the process.
Before you buy the game, be sure to go through the Minimum Specification required to play the game. If you don't have matching hardware levels to that, then it will be really hard to run the game properly.
Minimum System requirements:
OS: Windows 8.1 and onwards (64bit only)
Processor: Intel Core i7-3770 / AMD FX-9590 or better
Memory: 10 GB RAM or higher
Graphics: GTX 670 2GB / AMD R9 280 or better
DirectX: Version 11
Network: Stable Broadband Internet connection
Storage: 20 GB available drive space (an SSD is highly recommended to eliminate longer loading times)
Our thoughts
It is great to see a game like Rust recieving popular mainstream recognition over the world. The game is indeed very good and a good publicity often yeilds positive results for both the game and the players.
Be sure to follow Us for more gaming related news, articles, reviews and much more.