Last year has been pretty great for Apex Legends and with the new beginning of 2023, Respawn Entertainment and EA have gifted us with an exciting event to start things off! The Season 7 update of Apex Legends' first collection event is called 'Fight Night!' which is going live January 5th at 8 PM PT and here's everything you need to know.
Here are all the details you need to know about the latest event:
Airdrop Escalation Takeover
This is a brand new concept of a temporary game mode in the popular battle royale. They said that instead of giving it its separate playlist, It will take over the traditional 'Play Apex' mode which will help in the testing process. The mode is similar to the normal classic battle royale game mode but with way, more supply drops providing various weapons and pieces of equipment. As soon as you leave the starting jump ship, four supply drops will spawn randomly on the map, alongside normal ground loots, and this will repeat with each round. These supply drops are similar to Lifeline's care package and the weapons acquired from the drops will be fully kitted and of different tier levels. the quality of the weapons will vary with the progress of each round,e.g, round one drops will include level two kitted weapons whereas level four supply drops will include top tier equipment like Red armour and gold/purple tier fully kitted weapons. This weapons that are acquired from the crates can't be dismantled or have attachments swapped.
Pathfinder Town Takeover
Our good ol' robot has a game mode based on his name now!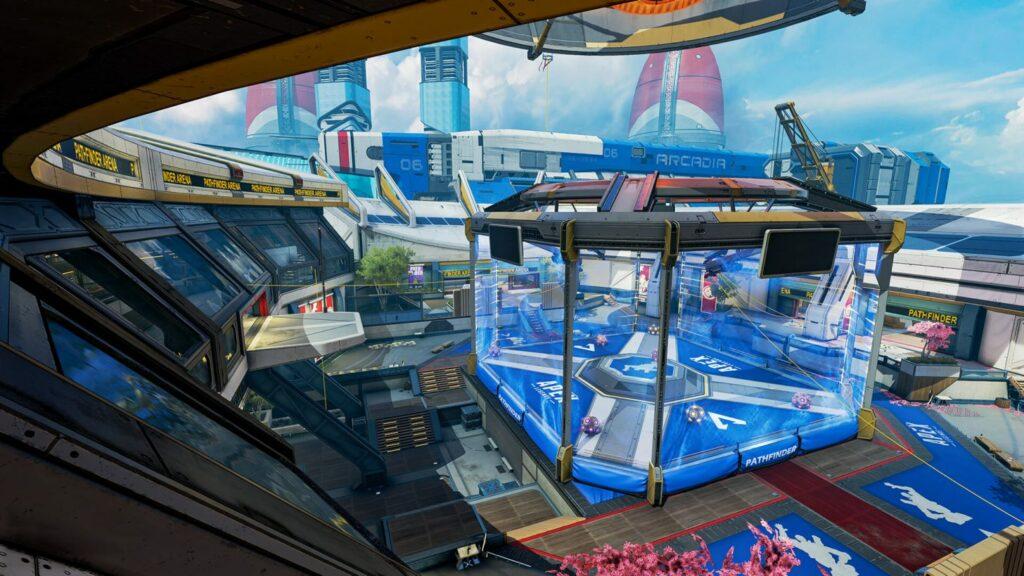 This game mode is based on hand to hand brawl kind of game mode, like the Fight club kickboxing type, and obviously with no weapons involved. There's a whole beautiful ring for it and on entering the ring, one can't use any weapons form their inventory. The ring is guarded by a blue wall so no outside nuisance will be interfering with your PPV fight and the only way to win is via fist or kicks. This game mode is actually our favourite one, it is just more satisfying to knock someone down by a punch than using any weapons. On winning, the player receives rare and top tier loots which he will be able to use in the battlefield upon leaving the ring.
Gameplay 
Loot MRVNS
This friendly MRVNS are now programmed to provide loots to the legends in the battlefield. They only appear in Olympus and will provide loots based on their face shown on the screen.
White Sad Face– Common level 1 loot
Blue Neutral Face– Rare level 2 loot
Purple Pleased Face– Epic Level 3 loot
Yellow Happy Face– Legendary Level 4 loot
Legend Balance
Season 7 has brought some minor buffs for Caustic and Rampart. These buffs are minor, especially in case of Caustic, but may tend to be huge as the game progresses.
Caustic– The cooldown for Caustic's Nox Gas Trap has been decreased from 25 seconds to 20 seconds
Rampart- The cooldown timer for Rampart's Amped Cover has been decreased from 30 seconds to 20 seconds.
Weapon Balance
Throughout the game progress, many weapons changes were implemented to balance out the overall gameplay. This update brings changes to the Hemlok, Prowler and Mastiff.
Hemlok– It gets a nerf as it's damage is decreased from 22 to 20.
Prowler– This gets a massive buff as its reserve bullets are increased to 210 from 175. So in case you manage to acquire one, good luck I guess!
Mastiff– Mastiff bullet spread out 3rd/4th pellets is decreased to a max range of 4 pellets hits ( before it was +/- 8.5 degrees and now it is +/- 10).
Some of the new user-friendly updates
Ultimate accelerants can now be used without opening the inventory by just pressing the Ult button and it will automatically pull out and use the accelerant stored in the inventory. This will happen when the Ult is not charged up and you have an accelerant in the inventory.

If a party member leaves the team while in the queue, it will automatically stop the matchmaking and show all players as 'Not Ready'. This will prevent all those accidental matchmakings without your friends.

Just like messenger and other chat variants, there has been added a new 'Mark All As Seen' to remove those annoying red pings that you obviously haven't seen.

On pinging the nearest Spawn beacon from Spectate will always ping the nearest spawn beacon that is available under the possible circumstances.

 Under available circumstances, Caustic will smash the doors with his Heirloom Hammer instead of using his leg. A necessary change? Maybe. A cool addition? Yes sir.
Fight Night Event Collection
There are 24 event items to collect in the Fight Night Event and all of them are purchasable via Apex Coins or Crafting Metals directly. And on the collection of all 24 items, players will receive a beautiful Gibraltar Heirloom which will be available after the event ends ( via Heirloom crafting).
Minor Bug Fixes
Bloodhound– The disappearing UI glitch o interaction with Horizon's Tactical is now patched. 
Wraith– Trident can't destroy Wraith's Portal anymore.
Mirage– The bug relating Mirage's footstep not making a sound is now patched.
Bangalore– 

Bangalore's missile passing through hatch doors when they are closed in Worlds Edge is now patched.

Crypto– Hack is now patched from getting stuck within Trident on deploying as a passenger and on a ramp. Also, Hack consuming two Vault keys if two keys were in Crypto's inventory is patched.
Revenant– The teleportation glitch on punching revenant when he has very little HP has been fixed. Another glitch that caused an issue that didn't allow Revenant to deploy Death Totem while being on the Trident has also been patched.
Loba– Few windows in World's Edge have been patched that previously prevented Loba's bracelet from passing.
Rampart–

Fixed the issue where UI elements stayed on screen after using Sheila and the issue that allowed Rampart to place Sheila while in the Phase Runner.

Horizon– The glitch that prevented Horizon's abilities from affecting Crypto's Drone and Lifeline's DOC.
These are all the important available details and changes that are introduced to the game in the 'Fight Night!' event. Apex Legends has a great plan for 2023 with the upcoming season 8 and 9 updates that will bring major changes to the game (read this article to get more insight on that).  Be sure to follow our page for more exciting gaming news!