Epic Games was recently in our headlines for its rewarding Christmas presents among us, gamer children. The 'Epic Holiday Sale' reigned from 17th Dec to 31st Dec 2020 and in that meantime, Epic Games have given away a total of fifteen games absolutely for free. Everything good or bad thing has to come to an end and so was Epic Store's holiday sale and a quite awful 2020 ended with memories and experiences.
Epic Games are well-known for their nature of giving away games for free, every week without any special occasions. Before the 'Epic Holiday Sale', they have given away numerous game ranging from different genre and price. Many of those games are well-known titles like Grand Theft Auto V, World War Z, Watchdogs 1 and 2, etc.
So as normal, they continued their courtesy of free games giveaway per week even on this new year of 2023. The year of free games started normally but soon took a solid pace and it has just been a week. On the starting of the third week, that is, January 14th 2023, Epic Games is going to giveaway the popular title 'Star Wars Battlefront II: Celebration Edition'.
Star Wars Battlefront II is an action shooter multiplayer game that is entirely based on the famous Star Wars franchise. This is the fourth title under the Star Wars game series and is a sequel to the 2015's reboot series. The game was developed by DICE, Motive Studios and Criterion Software and was initially released on 17th November 2017. The game provides a great action-packed experience and itself runs quite nicely on the Frostbite engine.
Though it has some serious issues that many didn't like and it was justified. One of the problems was its bend towards 'Pay to Win' meta. The publisher of the game is Electronic Arts or EA, so it was not a surprise. Paying for loot boxes or grinding many hours just to get a single character unlocked while there are several locked is just the worst thing EA is infamous for.
This behaviour of EA can also be seen in its sports games like FIFA and Madden especially and they finally got some class-action lawsuits for that recently (read further here). But there's no denying that Dice and the other developers have made a beautiful action shooter game if we ignore EA's participation.
Although, We don't exactly know what your insights on this but it sure is a crazy start for Epic Games. This weekly freebie has raised everyone's expectations to the mountains. The Celebration Edition of the game will include the complete collection of customization content that is acquirable through in-game transaction/purchase. And not only that, but it will also include the Rise of the Skywalker update of the game!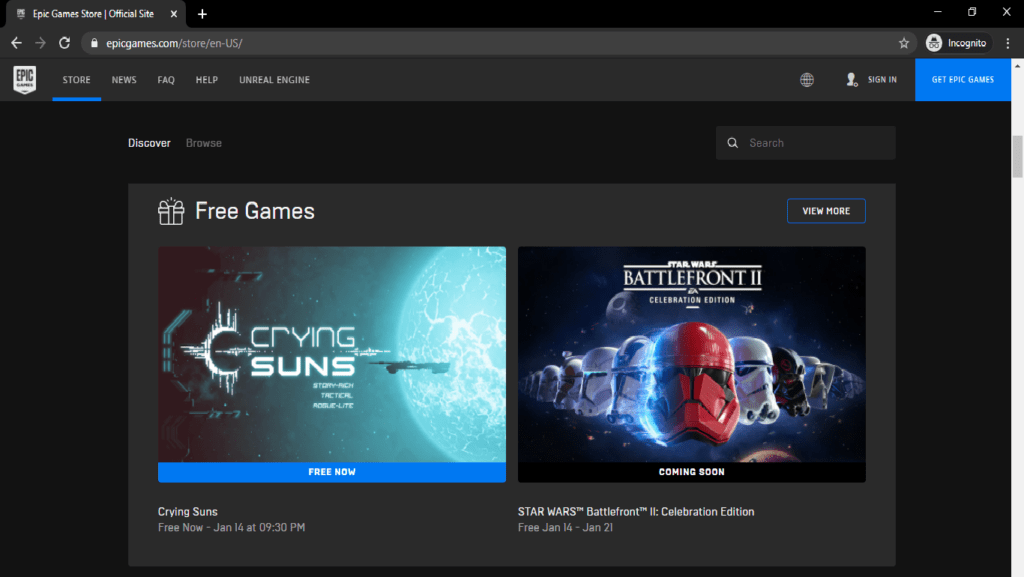 The game is a great game for everyone to try, even if you are not a fan of Star Wars or its games in general. The game is not available for normal purchase as it is not available in the store but we should be expecting it around Thursday 14th. So, the wait is not much longer and be sure to set your reminders for it just in case you miss out on the golden opportunity.
Epic Games Store is a digital video game distribution service operated by Epic Games. It was launched back in 2018 and is very famous for the worldwide popular battle royale game 'Fortnite'. Since its launch, It has been growing at a fast pace and people love their way of marketing via free game giveaways.
So, be sure you have an account in epic games as it has a great library of selections that you may find interesting. The store also offers many discounts and obviously, the weekly free games for everyone. Follow us for more gaming related news, reviews and articles. Happy gaming everyone!